Publication:
Plataformas Digitales y Robótica. Su proyección en el Sistema de Seguridad Social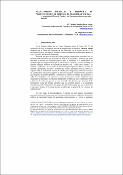 Advisors (or tutors)
Editors
Abstract
El estudio analiza el impacto de la economía digitalizada en el Sistema de Seguridad Social. Se presta especial atención a los trabajos atípicos, no convencionales, asalariados o autónomos, desarrollados en (a través) de Plataformas Digitales y a la Robótica Inclusiva. Y se exploran las propuestas de adaptación del Sistema Español de Seguridad Social.
The report analyses the impact of the digitised economy on the Social Security System.We pay special attention to atypical, non-conventional, salaried and self-employed jobs, developed on (through) Digital Work Platforms and Inclusive Robotics. And it proposals for adapting the Spanish Social Security System are explored.