Publication:
Granular superconductivity and magnetic-field-driven recovery of macroscopic coherence in a cuprate/manganite multilayer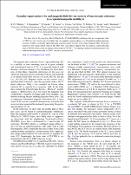 Advisors (or tutors)
Editors
Publisher
American Physical Society
Abstract
We show that in Pr_(0.5)La_(0.2)Ca_(0.3)MnO_(3)/YBa_(2)Cu_(3)O_(7) (PLCMO/YBCO) multilayers the low temperature state of YBCO is very resistive and resembles that of a granular superconductor or a frustrated Josephson-junction network. Notably, a coherent superconducting response can be restored with a large magnetic field which also suppresses the charge-orbital order in PLCMO. This coincidence suggests that the granular superconducting state of YBCO is induced by the charge-orbital order of PLCMO. The coupling mechanism and the nature of the induced inhomogeneous state in YBCO remain to be understood.
Description
© 2016 American Physical Society. The work at UniFr has been supported by the Swiss National Foundation (SNF) through Grants No. 200020-153660 and No. CRSII2-154410/1.
Collections