Publication:
Kutù'và yu tu'ún va'á. Estoy aprendiendo la palabra de bienestar. Iniciación etnodramática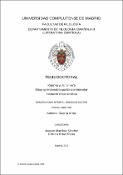 Files
Authors
Advisors (or tutors)
Editors
Publisher
Universidad Complutense de Madrid
Abstract
Is it possible from some one out side of Ñuu Saví (Mixtec) culture to learn how to do an ethnodrama? A healer and rain maker from Mixteca land is teaching me how to ask for rain and cure diseases. "Kutù'và yu Tu'ún Va'á", is the name of my thesis and means "I am learning the wellness word". This work is an "ethnodramatic initiation" to their sacred language. I don't attempt to read Don Marcelino's mind but to create a mental scenario that would help us to contemplate the internal spectacle he and his community watch during the ethnodrama of rain and healing. Finally I will represent my learning process during my initiation to body-mental technics. The subject of the thesis travels around several concepts interrelated: feast, ritual, celebration, healing, rain, knowledge, magical thinking, learning, performance… It's related to an analogic language, oral culture, holistic perception and ethnodramaturgy. I will apply some of the concepts of Weisz's ethnodramatic performance theory to a place located in Mexico, state of Oaxaca, Juxtlahuaca district, belonging to the municipality of Coicoyán de las Flores, El Jicaral. A wiseman from Nuun Tiaxin, Ñuu Saví, is teaching me how to speak with Rain and Sicknesses. Ethnodrama is a word used by Weisz to make the difference between theatre, and an ethnic paratheatrical performance. The ethnic drama is a mythological text, that it is seen inside the mind of the community members. Weisz conceives the concept as part of a greater project called, Anthropology of Knowledge, that studies the imaginary solutions to explain the formation of the world, the universe and the inscribed rituals in all great antique cultures Weisz [1994b:29]. Curanderismo, quackery, belongs to a illegitimate literature, it is something no serious. An art that goes beyond the canons of a written text and does not match with the categories of our cultures. It threatens the monolithic solidity of our academic reality and then it's excluded. Weisz proposes to study shamanic text from a marginal position in front of a central culture that only recognizes as valid certain texts. The ethnotexto is uncomfortable, it intimidates the unity of the group of the dominant culture. Curanderismo places itself then in a position that questions a conceptual colonization, that "behavior and ideology that nourish themselves from a totalizing strategy". A colonization that transcends Europe, related to power and to the dominant position. This is how Literature field is created Weisz [2005: 102-103]...
Description
Tesis inédita de la Universidad Complutense de Madrid, Facultad de Filología, Departamento de Filología Española II (Literatura Española), leída el 20/10/2015
Collections