Publication:
La obsolescencia programada en el bien de consumo y la dinámica del mercado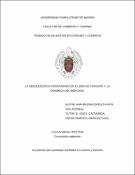 Authors
Advisors (or tutors)
Editors
Abstract
Las economías mundiales en proceso de recuperación, con grandes fábricas y una dotación mano de obra altamente productiva, demandaban del mercado un mayor nivel de consumo. Este entorno propició el cambio de foco económico hacia una sociedad de consumo. En este escenario se desarrolla la Obsolescencia Programada como una saludable insatisfacción en cuanto a hacer las cosas menos bien de lo que pueden hacerse con la intención de aumentar la rotación de los productos en mano de los consumidores. Al realizar esta investigación se buscaba ahondar con claridad en la justificación real de la Obsolescencia Programada dentro de la dinámica del mercado desde la óptica general de la economía y sus actores. De igual forma se esbozan sus efectos en el proceso de compra del consumidor y en la transformación resultante de los precios y la calidad, no solo de los bienes terminados sino de sus partes y repuestos. Por último, se presenta un esquema de marco legal circundante para estas actividades y potenciales alternativas.
World economies in process of recovery, with large factories and a highly productive workforce, demanded of the market a higher level of consumption. This environment led to the change of economic focus towards a consumption society. In this scenario, Planned Obsolescence develops as a healthy dissatisfaction with based on doing things less well than they can be in order to increase the rotation of products in consumer hands. By performing this research is sought to delve with clarity the real justification of the planned obsolescence within the dynamic of the market from the economy and its actors. In the same way outlined its effects in the consumer purchase process and in the resulting transformation of both prices and quality, not just of finished goods but also their spare parts. Finally, a scheme surrounding legal framework for these activities and potential alternatives is presented.