Publication:
Junction conditions in Palatinif(R) gravity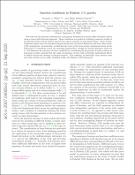 Advisors (or tutors)
Editors
Abstract
We work out the junction conditions forf(R) gravity formulated in metric-affine (Palatini) spaces using a tensor distributional approach. These conditions are needed for building consistent models of gravitating bodies with an interior and exterior regions matched at some hypersurface. Some of these conditions depart from the standard Darmois-Israel ones of general relativity and from their metricf(R) counterparts. In particular, we find that the trace of the stress-energy momentum tensor in the bulk must be continuous across the matching hypersurface, though its normal derivative need not to. We illustrate the relevance of these conditions by considering the properties of stellar surfaces in polytropic models, showing that the range of equations of state with potentially pathological effects is shifted beyond the domain of physical interest. This confirms, in particular, that neutron stars and white dwarfs can be safely modelled within the Palatinif(R) framework.
Description
© 2020 IOP Publishing Ltd. GJO is funded by the Ramon y Cajal contract RYC-2013-13019 (Spain). DRG is funded by the Atraccion de Talento Investigador programme of the Comunidad de Madrid (Spain) No. 2018-T1/TIC-10431, and acknowledges further support from the Ministerio de Ciencia, Innovacion y Universidades (Spain) Project No. PID2019-108485GB-I00/AEI/10.13039/501100011033, and the FundacAo para a Ciencia e a Tecnologia (FCT, Portugal) research Projects Nos. PTDC/FIS-OUT/29048/2017 and PTDC/FIS-PAR/31938/2017. This work is supported by the Spanish project FIS2017-84440-C2-1-P (MINECO/FEDER, EU), the project H2020-MSCA-RISE-2017 Grant FunFiCO-777740, the project SEJI/2017/042 (Generalitat Valenciana), the Consolider Program CPANPHY-1205388, the Severo Ochoa grant SEV-2014-0398 (Spain) and the Edital 006/2018 PRONEX (FAPESQ-PB/CNPQ, Brazil) Grant No. 0015/2019. This article is based upon work from COST Actions CA15117 and CA18108, supported by COST (European Cooperation in Science and Technology).
Collections