Publication:
Inmunómica, genética y proteómica de la malaria humana: descubrimiento de biomarcadores de diagnóstico y tolerancia en zonas endémicas de África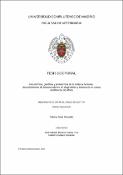 Files
Authors
Advisors (or tutors)
Editors
Publisher
Universidad Complutense de Madrid
Abstract
La malaria, causada por parásitos protozoarios del género Plasmodium, es una de las enfermedades infecciosas con mayor impacto en la salud pública de las regiones en desarrollo. Su cuadro clínico es muy heterogéneo y engloba desde la malaria grave con riesgo para la vida, hasta la malaria subclínica, caracterizada por bajos niveles de parasitemia y ausencia de sintomatología. Existen dos factores principales que influyen en la gravedad de la infección. El primero es el desarrollo de una inmunidad adaptativa, que se adquiere gradualmente con los años y con las sucesivas exposiciones al parásito, dejando en un estado de vulnerabilidad a los niños menores de cinco años. La segunda es la genética del individuo, existiendo una selección positiva de ciertos polimorfismos genéticos que confieren tolerancia a la malaria en regiones endémicas. Con esta perspectiva, la identificación de biomarcadores de tolerancia a la malaria, tanto inmunitarios como genéticos, que permitan identificar dianas de protección inmunológica y de diagnóstico del estado infeccioso, constituye un objetivo científico para contribuir a eliminar esta enfermedad. El control de la malaria en los países endémicos sigue enfrentándose a la ausencia de sistemas de diagnóstico sensibles y asequibles y de vacunas efectivas. Así, la identificación de antígenos inmunogénicos de Plasmodium constituye también un objetivo principal en la lucha antimalárica, ya que aumentaría el arsenal de moléculas candidatas para el diseño de vacunas y de mejores sistemas diagnósticos. Hasta la fecha, la mayoría de los estudios se han enfocado en el descubrimiento de antígenos reconocidos por IgG. Sin embargo, aunque la IgM tiene también ventajas diagnósticas y se ha demostrado su papel protector, los antígenos de Plasmodium reconocidos por IgM permanecen ignorados...
Malaria, caused by protozoan parasites of the genus Plasmodium, is one of the infectious diseases with greatest public health impact in developing regions. Its clinical manifestations are highly diverse ranging from severe and life-threatening malaria to subclinical malaria, characterised by low levels of parasitaemia and absence of symptoms. Two main factors influence infection severity. First, the development of adaptive immunity, which is gradually acquired over the years by repeated exposures to the parasite, results in a vulnerability state for children under 5 years of age. Secondly, human evolutionary adaptation, including positive selection of certain genetic polymorphisms that confer tolerance to malaria in endemic regions. From this standpoint, the identification of biomarkers of tolerance to malaria, both immunological and genetic, to identify targets of immune protection and diagnosis of the infectious state, is a scientific goal to contribute to the elimination of this disease.Malaria control in endemic countries is still facing the lack of sensitive and affordable diagnostic systems and effective vaccines. Thus, the identification of immunogenic Plasmodium antigens is also a major goal in the fight against malaria, as it would increase the collection of candidate molecules for vaccine design and improved diagnostic tests. To date, most studies have focused on the discovery of antigens recognised by IgG. However, although IgM also has diagnostic advantages and its protective role has been demonstrated, IgM-recognised Plasmodium antigens remain overlooked...
Description
Tesis inédita de la Universidad Complutense de Madrid, Facultad de Veterinaria, leída el 11/07/2022
Collections