Publication:
La Influencia del Factor Psicológico en los Procesos Políticos: el Caso de las Influencias del Antifranquismo en los Esquemas Ideológicos Dominantes en la Actual Democracia Española (2000-2004)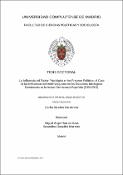 Files
Authors
Advisors (or tutors)
Editors
Publisher
Universidad Complutense de Madrid
Abstract
Este trabajo de investigación versa sobre un área concreta de la Ciencia Política: Procesos Democráticos y Transiciones Políticas, pero desde un enfoque poco desarrollado en el ámbito investigador y académico de los científicos-políticos españoles y también europeos: el político-psicológico. El objeto de estudio de ésta Tesis Doctoral es hallar relaciones entre los modelos actitudinales y de comportamiento político de las diversas fuerzas antifranquistas durante la fase final de su clandestinidad (obligada hasta 1977 por la dictadura), y los esquemas ideológicos dominantes establecidos en la actual democracia española centrándome en el período 2000-2004, transcurriendo entre el primero de los fenómenos y el segundo varias décadas. En ese tiempo se va configurando la democracia en España, con importantes influencias, según la proposición que va implícita en el título de éste trabajo, en la forma en la que se han asentado dichos esquemas ideológicos dominantes, una reflexión con una dimensión de tipo historicista y basada principalmente en postulados político-psicológicos (sin pretensiones de política comparada)...
This research deals with a specific area of Political Science: Political Transitions and Democratic Processes, but from an underdeveloped approach in the research and academic environment of scientific-politicians in Spain and also Europe: the political-psychological approach.The study object of this thesis is to find relationships between attitude and political behavior models of the various anti-Franquism forces during the final phase of hiding (forced by the dictatorship until 1977), and the dominant ideological schemes stablished in the current Spanish democracy focusing on the period 2000-2004, running several decades between the first and second phenomena. At that time, democracy is taking shape in Spain with major influences, according to the assumptions implicit in the title of this work, in the way such major ideological schemes were settled, a reflexion with a historicist dimension type and based mainly on political-psychological assumptions (unassuming comparative politics)...
Description
Tesis inédita de la Universidad Complutense de Madrid, Facultad de Ciencias Políticas y Sociología, leída el 19/11/2019
Collections