Publication:
Miguel de Cervantes Saavedra y Antonio Buero Vallejo: dramaturgos ejemplares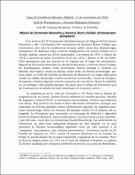 Authors
Advisors (or tutors)
Editors
Abstract
Esta conferencia es un intento de comprensión de los valores comunes de las tragedias históricas de Cervantes y de Buero. El talante ético de ambos dramaturgos les caracteriza como ejemplares. La conclusión es doble, por un lado, la libertad es el anhelo humano más importante de la vida; por otro, la verdad, la justicia, la igualdad, la solidaridad, el amor y la esperanza son esenciales para ser una persona verdadera. La salvación del hombre está, principalmente, en el arte y en las humanidades.
This conference is an attempt to understand the common values of historical tragedies of Cervantes and Buero. The ethical spirit of both playwrights characterizes them as exemplars. The conclusion is double: on the one hand, freedom is the most important human longing for life; on the other, truth, justice, equality, solidarity, love and hope they are essential to being a real person. The salvation of man is, mainly, in the art and the humanities.
Citation
José María Callejas Berdonés. Doctor en Filosofía por la Universidad Complutense.