Publication:
La política del poder: Alianzas e interacciones partidistas estratégicas en República Dominicana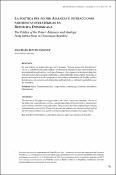 Advisors (or tutors)
Editors
Publisher
Pontificia Universidad Católica de Chile
Abstract
En este trabajo se argumenta que en la llamada "tercera transición dominicana" –la de la consolidación democrática– se afianza en el país un tipo característico de presidencialismo pluralista en el que el trueque y la cooperación interpartidista han sido elementos clave para la estabilidad y gobernabilidad democrática. Para ello, se presentan las prácticas de compromiso (formales e informales) de la élite política dominicana, así como los determinantes institucionales y estímulos partidistas quelas sustentan.
The objective of this paper is to suggest that in the "third Dominican transition" (the one of the democratic consolidation), emerges a specific type of plural Presidentialism characterizedby the exchange and inter-party cooperation. These practices have been responsible for stabilityand democratic governability. This article presents the commitments (formal and informal) of the Dominican political elite and the institutional/partisan variables that support them.
Collections