Publication:
La construcción comunicativa del personaje y el liderazgo de Emmanuel Macron: de candidato a presidente de la República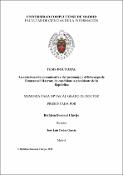 Files
Authors
Advisors (or tutors)
Editors
Publisher
Universidad Complutense de Madrid
Abstract
El meteórico ascenso de Emmanuel Macron, quien en algo menos de dos años pasó de ser un ministro dimisionario a presidente de la República Francesa, es un ejemplo de la nueva manera en la que se construyen los líderes y en la que estos se relacionan con el entorno y con sus electores. Esta tesis analiza el proceso de construcción del personaje y el liderazgo de Macron con base en las teorías del carisma, el liderazgo, la individualización política y los nuevos modelos de comunicación y estudia cómo Macron y su equipo han usado nuevas herramientas y modos de relación para crear al personaje político, transmitir su mensaje y persuadir a los públicos. Entre los aspectos novedosos o, al menos, planteados de forma novedosa que se extraen de la investigación se encuentran el uso de una narrativa basada en la puesta en escena controlada de la vida personal e íntima a través de los medios de comunicación de perfil 'rosa'; la recuperación de los modos de comunicación comunitaria interpersonal; el puerta a puerta, tanto en un formato de escucha y recopilación de datos como en un formato de persuasión; el uso de estos datos en base a las técnicas relacionadas con Big Data y la construcción de algoritmos que optimicen los mensajes y las acciones de campaña y la construcción de un movimiento político con técnicas y métodos inspirados en las empresas innovadoras...
The meteoric rise of Emmanuel Macron who, in less than two years has moved from aresigning minister to president of the French Republic, he is an example of the new way of leadership construction and how to connect with the environment and the electors. This thesis analyses the building process of the character and leadership of Emmanuel Macron based on the theories of charisma, leadership, political individualization and the new models of communication. It also studies how Macron and his team have used new tools and implication modes to create a political character, transmit their message and persuade the audiences. Among the novel aspects, or at least the aspects focused in a novel way, that we can extract from the investigation, there is the use of a narrative based on the controlled staging of this personal and intimate life through people media, the restoration of the interpersonal community communication, door-to-door, both in listening an data gathering format and in a traditional persuasive format, the use of data through Big Data techniques and algorithm design to improve messages and campaign actions and the construction of a political movement with techniques and methods inspired in innovative companies...
Description
Tesis inédita de la Universidad Complutense de Madrid, Facultad de Ciencias de la Información, leída el 10-05-2021
Collections