Publication:
Influencia del complejo de embalses Mequinenza-Ribarroja-Flix (Río Ebro) en la morfología del cauce situado aguas abajo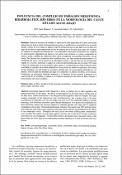 Advisors (or tutors)
Editors
Publisher
Sociedad Geológica de España
Abstract
Cuando se construye un embalse, el cauce que se sitúa aguas abajo de la presa suele sufrir alteraciones de diversa índole fundamentalmente porque se modifican las características de su caudal líquido y sólido. En este trabajo se analiza el tipo de alteraciones que se han dado en el río Ebro a lo largo de un tramo de aproximadamente 40 km de longitud que se localiza aguas abajo del complejo de embalses de Mequinenza-Ribarroja-Flix. Las principales alteraciones reconocidas son: ausencia de sedimentación, degradación de barras en los puntos más próximos a la presa, revegetación de barras y orillas, y pérdida de sedimentos finos con el consiguiente acorazamiento del lecho y de las barras. Dos factores han propiciado tales modificaciones, que han conducido prácticamente a la estabilidad del cauce, son la presencia de abundantes gravas y una elevada tasa de asentamiento vegetal en la sección. Asimismo se analiza la evolución morfosedimentaria del río desde 1927 hasta la fecha de construcción de estos embalses, años sesenta, y se determina que dicha evolución estaba controlada por episodios de crecidas catastróficas. En el período de estudio se registraron dos eventos de esta naturaleza. En este trabajo se describen también tanto las consecuencias derivadas de los mismos, como el papel tan destacado que jugó en su desarrollo un afluente del Ebro, el río Ciurana. Finalmente, los resultados obtenidos referentes a la dinámica fluvial, anterior y posterior a la construcción de los embalses, se aplican a la evolución sedimentaria del Delta del Ebro, formado a poca distancia del tramo estudiado.
Impounded channels suffer frequently a series of changes due to water regulation and sediment starvation. In this paper, the effects of impoundment are analysed along a 40 km reach of the Ebro River, located downstream of the Mequinenza-Ribarroja-Flich reservoir complex. The main changes recognized in this channel are: lack of sedimentation, bar scouring close to the dam, encroachment of vegetation into bars and banks, and wash out of fine sediments leading to channel armouring. Such alterations produced a quick channel stabilization. Two factors were responsible for these alterations, namely the previous presence of abundant gravels and a high rate of vegetation colonisation in the section. The morphosedimentary evolution of the reach since 1927 until the sixties, when reservoirs were built, is also assessed in the paper. Such evolution was dominated by the effects of rare catastrophic events. Throughout the study period two events fulfilling these characteristics were recorded. The effects of each flood together with the role of the River Ciurana confluence during them are also emphasized. The River Ebro Delta is developed close to the study reach, so that these results also throw light on the sedimentary processes operating in it, both before and after dam closure.
Collections