Publication:
CPT analysis with top physics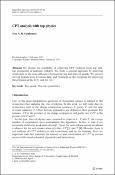 Advisors (or tutors)
Editors
Abstract
We discuss the possibility of observing CPT violation from top antitop production in hadronic colliders. We study a general approach by analyzing constraints on the mass difference between the top and anti-top quarks. We present current bounds from Tevatron data, and comment on the prospects for improving these bounds at the LHC and the ILC.
Description
© Springer Science+Business Media Dordrecht 2013. International Symposium on Symmetries in Subatomic Physics (SSP) (5th. 2012. Groningen, Netherlands). This work has been supported by MICINN (Spain) projects numbers FIS2011- 23000, FPA2011-27853-C02-01 and Consolider-Ingenio MULTIDARK CSD2009-00064. JARC would like to thank the kind hospitality of ACGC/University of Cape Town while elaborating the manuscript.
Collections