Publication:
Seasonal niche-tracking behaviour of two partially migratory passerines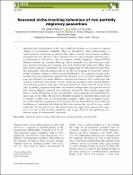 Advisors (or tutors)
Editors
Abstract
Migratory birds spend periods of the year in different locations as a response to seasonalchanges in environmental suitability. They are classified as either'niche-trackers'or'niche-switchers', depending on whether they track or switch environmental conditionsthroughout the year. However, the relationship between these strategies and their migra-tory behaviour is still unclear. Here we examine whether migratory European RobinsErithacus rubeculaand Eurasian BlackcapsSylvia atricapillatrack environmental condi-tions between breeding and wintering areas and whether their behaviour differs fromthat of their sedentary counterparts. We used ringing data for both migratory and seden-tary individuals wintering sympatrically in the Iberian Peninsula to assess the environ-mental conditions relating to their seasonal distributions. We explored seasonal niche-tracking using two multivariate analyses with alternative sets of predictor variables (land-scape and climate) to generate different environmental scenarios. Our results show thatmigratory individuals track similar climatic conditions throughout their seasonal distribu-tions, whereas sedentary birds cope with great variation in climate over the course of theyear. In addition, migratory birds show less seasonal overlap in the landscape structure oftheir chosen habitats compared with sedentary individuals. These results suggest thatthere is a trade-off between, on the one hand, the cost for migrants of travelling long dis-tances and, on the other, the increasedflexibility required by sedentary birds if they areto tolerate a wider suite of environmental conditions within their permanent ranges.Given that sedentary populations in the southern Iberian Peninsula seem to be linked topopulations of migratory individuals of these two species that started to move north-wards after the last glacial cycle, the observed patterns suggest that migrant birds repre-sent a fraction of the southern population that is specialized in the exploitation of anarrower range of environmental conditions.
Se sabe poco sobre la forma en que las poblaciones migratorias y sedentarias de una misma especie rastrean los recursos a lo largo del ciclo anual. En este estudio se utilizan petirrojos (Erithaculus rubecula) y currucas capirotadas (Sylvia atricapilla) marcados en sus áreas de invernada del Sur de España para seguirlos hasta sus áreas de cría. De esta forma se pueden ver los cambios estacionales de nicho con información cartográfica sobre el clima y la cobertura vegetal de las áreas ocupadas. Los resultados sugieren que las aves migratorias (crían en Centroeuropa) rastrean unas condiciones ambientales similares a lo largo de todo el ciclo anual. Sin embargo, las sedentarias (se quedan a criar en el Sur España) afrontan drásticos cambios estacionales en sus localidades de residencia. Se concluye que, dado que las poblaciones sedentarias parecen estar vinculadas a las poblaciones que comenzaron a moverse hacia el norte después del último ciclo glaciar, los resultados sugieren que las aves migratorias son una fracción poblacional especializada en la explotación itinerante de un estrecho rango de condiciones ambientales.
Collections