Publication:
P2P Sharing 2.1: Aplicación Android P2P para compartición de archivos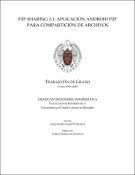 Authors
Advisors (or tutors)
Editors
Abstract
El proyecto P2P Sharing 2.1 es una aplicación cuya finalidad es compartir archivos entre amigos mediante una conexión directa con cada uno ellos. Los objetivos del proyecto consisten en el desarrollo e implementación de nuevas características y funcionalidades para la ampliación y mejora de la aplicación P2P Sharing 2.0 [1], la cual se ha tomado como base para el proyecto. Los principales puntos que se han desarrollado en el proyecto son la creación de la funcionalidad de grupos, la implementación de varias características de seguridad y la mejora de algunas características de la antigua aplicación. Un grupo es una lista de amigos entre los cuales poder compartir archivos. De este modo, solo esos amigos que estén en el grupo podrán ver, compartir y descargar los archivos. Para los grupos se ha creado una nueva vista donde se gestionan todos los grupos que tiene un usuario. En esta vista se puede acceder a los archivos compartidos en cada grupo y a los amigos que lo componen. También puede realizarse la gestión de crear nuevos grupos, eliminar o salir de ellos. Con respecto a la seguridad, se ha implementado un sistema criptográfico para cifrar y firmar el envío de archivos entre un usuario y otro. También se han realizado otras tareas de seguridad como la revisión del código para hacerlo más ininteligible. Por último, se han realizado otras mejoras como la implementación de los buscadores en amigos y grupos o el uso de nuevos componentes más dinámicos en lugar de otros más anticuados.
The P2P Sharing 2.1 project is an application for sharing files with friends through a direct connection with each other. The objectives of the project consist of the development and implementation of new features and functionalities for the extensión and improvement of the P2P Sharing 2.0 [1] application, which has been taken as the base for the project. The main points that have been developed in the project are the creation of group functionality, the implementation of several security features and the upgrade of some features of the old application. A group is a list of friends among which you can share files. This way, only these friends who are in the group will be able to view, share and download the files. For groups, a new view has been created where all the groups of a user can be managed. In this view, you can access the files shared in each group and the friends in that group. You can also manage to create new groups, delete, or exit them. With respect to security, a cryptographic system has been implemented to encrypt and sign the files sent between users. Other security tasks have also been performed such as vulnerabilities code analysis to make it more secure. Finally, other improvements have been made such as the implementation of search tools on friends and groups or the use of new and more dynamic components in place of older ones.
Description
Trabajo de Fin de Grado en Grado en Ingeniería Informática, Facultad de Informática UCM, Departamento de Sistemas Informáticos y Computación, Curso 2019/2020