Publication:
The sedimentary record of the Albian-Cenomanian transgression in the Cuenca Basin (Iberian Ranges, Spain) :paleographical evolution and paleoflora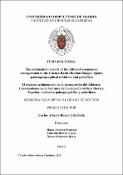 Files
Authors
Advisors (or tutors)
Editors
Publisher
Universidad Complutense de Madrid
Abstract
This Ph.D. thesis presents a high‐resolution palaeogeographical study of the onset and evolution of the largest ever recorded marine transgression, the "mid" Cretaceous transgression, in an exceptional setting located in the Western Tethys, at the eastern margin of Iberia: the Cuenca Basin (Spain). The study of the Cuenca Basin allows the accurate reconstruction of the time‐space evolution of the transgressive event due to:(1) The Albian to early Cenomanian sedimentary succession represents the sedimentary record of that major transgressive event. This succession is composed of the siliciclastic deposits of the Utrillas Gr, interpreted as an arid braidplain system, and the mixed shallow marine deposits of the La Bicuerca Mb (Aras de Alpuente Fm).(2) The basin is located at the interface between those areas entirely dominated by marine sedimentation during the "mid" and Late Cretaceous, and the areas that were dominated mainly by continental sedimentation until the transgression reached its climax during the Cenomanian‐Turonian boundary. Additionally, the Albian to early Cenomanian time in Iberia was characterised by: (a) representing the transition from the Late Jurassic‐Early Cretaceous syn‐rift stage to the Late Cretaceous post‐rift stage, and (b) being an extremely prolific time span regarding the deposit of amber‐bearing successions...
Esta tesis doctoral presenta un estudio de alta resolución sobre el comienzo y evolución de la mayor transgresión marina del Mesozoico, la transgresión del Cretácico "medio", en un contexto privilegiado, localizado al oeste del Océano del Tethys, en el margen este de Iberia: La Serranía de Cuenca (España). El estudio de esta cuenca sedimentaria ha permitido realizar una reconstrucción espacio‐temporal precisa y pormenorizada del registro geológico de la transgresión debido a dos factores:(1) La sucesión sedimentaria Albiense ‐ Cenomaniense inferior representa el registro de la transgresión del Cretácico "medio". Esta sucesión comprende un cambio lateral de facies entre los depósitos siliciclásticos del Gr. Utrillas, interpretados como una llanura alluvial de tipo braided, y los mixtos del Mb. La Bicuerca (Fm. Aras de Alpuente), interpretados como depositados en un ambiente marino somero.(2) La cuenca sedimentaria está localizada en una zona de transición entre las areas dominadas por sedimentación marina durante el Cretácico "medio" y Superior (hacia el SE de la zona de estudio), y la sáreas que estuvieron dominadas por sedimentación continental (localizadas al NO de la zona estudiada)hasta que tuvo lugar el máximo de la transgresión durante el límite Cenomaniense‐Turoniense. Además, cabe destacar que el intervalo Albiense ‐ Cenomaniense inferior en Iberia estuvo caracterizado por: (a) registrar la transición de la etapa sin‐rift del Jurásico Superior ‐ Cretácico Inferior a la etapa postrift del Cretácico Superior, y (b) ser un periodo en cuyos depósitos se han descubierto numerosos yacimientos ambarígenos...
Description
Tesis inédita de la Universidad Complutense de Madrid, Facultad de Ciencias Geológicas, leída el 07-11-2022
Collections