Publication:
Formación docente de coordinadores y promotoras de educación infantil, Guinea Ecuatorial. Análisis y propuestas de mejora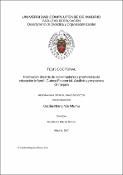 Files
Authors
Advisors (or tutors)
Editors
Publisher
Universidad Complutense de Madrid
Abstract
The education is a right that people have to face life and contribute to the progress of society; for such a reason, education in the childhood stage is considered by the world organizations promoting culture and development, as a critical process which should be especially met by all of the nations. In accordance to the former concern, the Government of the Republic of Equatorial Guinea considers Children's Education as an essential factor for the future of the country, hence, the national educational policies emphasize on the Children's Education sector and call for a logistical and scientific immediate assessment in order to rise the quality levels in the children's educational process since they are the hope for prosperity of nations. The problem stated on the present doctoral thesis refers to the implementation and projection necessity of the teaching staff's educational infrastructure that responds to the minimum demands guaranteeing an education in childhood within the Equatorial Guinean context. Concretely, we refer in this work to the professionals in Guinea that assume the above mentioned responsibility, they who are: the Coordinators and the Promoter women. Thus, the Promoter women run great part of the classrooms for Children's Education in Equatorial Guinea, that is to say, they are who directly interact with the children and with their families; in contrast, the Coordinators are who guide and systematically audit the Promoter women's work to trace correction and improvement rules of their educational practice, and of their formation as school teachers. Actually, and in spite of the endeavors carried out in the curricular projection by the educational agents formerly referred to, inadequacies that are expressed in the following investigation problem still persist: inadequacies in the teaching formation of Coordinators and Promoter women of the Children's Education in Equatorial Guinea as educational agents of this level...
Description
Tesis inédita de la Universidad Complutense de Madrid, Facultad de Educación, Departamento de Didáctica y Organización Escolar, leída el 19-11-2015
Collections