Publication:
Maculopatía por puntero láser. ¿Un nuevo problema de salud pública?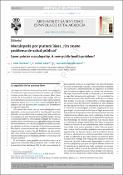 Advisors (or tutors)
Editors
Description
Available online 13 October 2016, publicado en papel n enero de 2017
Citation
1. Instituto Nacional de Seguridad e Higiene en el Trabajo, Guía Técnica para la evaluación y prevención de los riesgos relacionados con las radiaciones ópticas artificiales. Ministerio de empleo y seguridad social, Madrid, 2015. 2. Norma UNE. EN 60825-1:2015 Seguridad de los productos láser. Parte 1: Clasificación de los equipos y requisitos, (2015). 3. Bachmeier I, Helbig H, Greslechner R. Eclipse retinopathy: A case series after the partial solar eclipse on 20 March 2015. Ophthalmologe. 2016 [Article in German], Epub ahead of print. 4. Sánchez-Barahona C, González Martín-Moro J, Zarallo-Gallardo J, Lozano-Escobar I, Cobo Soriano R. Early changes in optic coherence tomography in one child with pointer laser maculopathy. Arch Soc Esp Oftalmol. 2016, pii: S0365-6691(16)30126-5 [Article in English, Spanish]. 5. Raoof N, Chan TK, Rogers NK, Abdullah W, Haq I, Kelly SP, et al. "Toy" laser macular burns in children. Eye (Lond). 2014;28:231–4. 6. Raoof N, O'Hagan J, Pawlowska N, Quhill F. «Toy» laser macular burns in children: 12-month update. Eye (Lond). 2016;30:492–6. 7. Porrua L, Oblanca N, González-López J. Spontaneous closure of a blue-laser induced full thickness macular hole. Arch Soc Esp Oftalmol. 2016. 8. Liu HF, Gao GH, Wu DC, Xu GD, Shi LS, Xu JM, et al. Ocular injuries from accidental laser exposure. Health Phys. 1989;56:711–6. 9. Marshall J. The safety of laser pointers: Myths and realities. Br J Ophthalmol. 1998;82:1335–8. 10. Marshall J, O'Hagan JB, Tyrer JR. Eye hazards of laser "pointers" in perspective. Br J Ophthalmol. 2016;100:583–4. 11. Bartsch D, Muftuoglu I, Freeman W. Laser pointers revisited. Retina. 2016;36:1611–3.
Collections