Publication:
Nuevos desarrollos metodológicos en SPME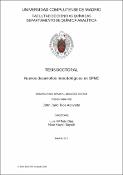 Files
Authors
Advisors (or tutors)
Editors
Publisher
Universidad Complutense de Madrid
Abstract
La Microextracción en fase sólida (SPME) ha experimentado un rápido desarrollo desde su introducción hace más de 20 años teniendo un gran impacto sobre las prácticas de muestreo y preparación de muestra en áreas como análisis químico, bioanálisis, los alimentos y las ciencias ambientales. Sin embargo, en otras áreas como análisis clínico, ciencias farmacéuticas y médicas, se espera un crecimiento en sus aplicaciones. El objetivo fundamental de la presente investigación ha sido la implementación de nuevas metodologías mediante la técnica de SPME. En el primer estudio, se modifica la interfase comercial SPME-HPLC, la cual fue adaptada para realizar una extracción dinámica en línea de los analitos de la muestra sobre la fibra con desorción mediante aplicación de vibración en la interfase durante ambos pasos de extracción y desorción. Para la optimización, se eligieron como compuestos prueba hidrocarburos aromáticos polinucleares (PAHs), en concreto catorce, los cuales fueron detectados por fluorescencia. Se analizaron muestras de agua del Pantano San Juan y del río Guadalix. La interfase fue validada por comparación de los resultados con los obtenidos mediante el método de referencia 550.1 de la EPA...
The solid phase micro extraction (SPME) has experienced rapid development since its introduction more than 20 years ago having a great impact on sampling and sample preparation areas such as chemical analysis, bioanalysis, food and environmental sciences. However, in other areas such as clinical analysis, pharmaceutical sciences and medical applications a significant increase in its applications is expected. The main objective of this research has been the implementation of new methodologies by SPME technique. In the first study, a commercial SPME-HPLC interface was modified for on-line dynamic extraction of the analytes from the sample onto the fiber with desorption by the interface vibration during the steps of extraction and desorption. For optimization of the method, polynuclear aromatic hydrocarbons (PAHs) were selected as test compounds, in particular fourteen ones which were detected by fluorescence. Water samples of San Juan Reservoir and River Guadalix were analyzed. The interface was validated by comparing the results with those obtained using the reference method EPA 550.1. The dynamic extraction method showed good sensitivity compared to the reference one, without existing significant differences between the two methods at the 95% probability level...
Description
Tesis inédita de la Universidad Complutense de Madrid, Facultad de Ciencias Químicas, Departamento de Química Analítica, leída el 27/01/2016
Collections