Publication:
Estudio de Cainotherium (Artiodactyla, Mammalia) del Mioceno Medio de Alameda de Osuna (provincia de Madrid)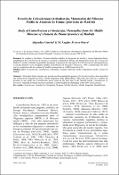 Advisors (or tutors)
Editors
Publisher
Universidad Complutense de Madrid, Servicio de Publicaciones
Abstract
Se estudian y describen 130 restos dentales aislados, un fragmento de maxilar y cuatro fragmentos hemimandibulares de Cainotherium de un nuevo yacimiento, Alameda de Osuna, del Aragoniense medio de la Cuenca de Madrid. El estudio realizado ha permitido determinar la presencia de una especie de Cainotherium de talla pequeña que se cita por primera vez en el registro español, Cainotherium cf. huerzeleri HEIZMANN, 1983 y correlacionar este nivel con los yacimientos del área urbana de Madrid pertenecientes a la MN5 (zona local D). [ABSTRACT] 130 isolated dental remains, one maxilar and four mandibular portions of Cainotherium have been described and studied from Alameda de Osuna, Middle Aragonian of the Madrid Basin. This study has allowed to confirm the presence of one small size Cainotherium specie cited for the first time in the Spanish record, Cainotherium cf. huerzeleri. Alameda de Osuna has been correlated to other Madrid sites belonging to the MN5 (local zone D).
Collections