Publication:
Educación y Biblioteca, una revista profesional particular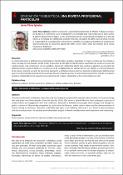 Authors
Advisors (or tutors)
Editors
Publisher
El profesional de la información
Abstract
La revista Educación y biblioteca ha acompañado a las bibliotecas públicas españolas en el gran cambio que han llevado a cabo a lo largo de tres décadas. Desde finales de los años 80 del siglo XX, las bibliotecas españolas han vivido un proceso de modernización y de compromiso con sus públicos. Educación y biblioteca alentó esos cambios y aglutinó una corriente de biblioteconomía comprometida con la acción social de las bibliotecas, los valores del servicio público y la democratización de la cultura. Durante sus años de existencia, Educación y biblioteca estuvo abierta a todos los profesionales bibliotecarios que se sirvieron de ella como de un foro en el que discutir proyectos y poner en común buenas prácticas. Siendo un proyecto privado e independiente ha supuesto una experiencia de trabajo colaborativo y de funcionamiento en red. [ABSTRACT] The journal Educación y biblioteca (Education and the library) accompanied the Spanish public libraries in the great change that took place over three decades. Since the late 80s of the 20th century, Spanish libraries have undergone a process of modernization and engagement with their audiences. Educación y biblioteca encouraged these changes and brought to gether a stream of librarianship committed to social action by libraries, public service values and the democratization of culture. During its existence, Educación y biblioteca was open to all librarians, who used it as a forum to discuss projects and share best practices. As a private and independent project it offered a collaborative work experience and networking.
Collections