Publication:
Procesos transicionales y violencia política: la continuidad de la lucha armada de ETA (1977-1982)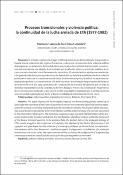 Advisors (or tutors)
Editors
Publisher
Universidade de Santiago de Compostela
Abstract
El artículo cuestiona la imagen mitificada del proceso democratizador inaugurado en España tras la experiencia del régimen franquista y subraya el componente de la violencia política desplegada en los escenarios de incertidumbre que presiden los contextos transicionales. La estructura del texto asume una división dual motivada por la reflexión teórica y el estudio analítico de un caso concreto vinculado con el fenómeno del terrorismo. El soporte teórico aporta una caracterización generalizada de los procesos de transición democrática y detalla la manifestación de la violencia política en el marco de la cuestión territorial vasca. En el terreno empírico, el análisis recae en la estrategia prolongada de la lucha armada de ETA en la coyuntura articulada por la aprobación del Estatuto de Autonomía en el año 1979 y profundiza en la valoración de una serie de hipótesis: por un lado, la debilidad representativa de la candidatura de Herri Batasuna frente a la consolidación hegemónica de un nacionalismo moderado; y por otro, la solidez organizativa respaldada por la configuración de una comunidad legitimadora en torno al discurso radicalizado del independentismo vasco.
This paper disputes the mythologized image of the democratizing process opened up in Spain after the experience of the Franco's regime and stresses the component of political violence deployed in the scene of uncertainty that preside over the transitional contexts. The structure of the text assumes a dual division motivated by theoretical reflection and the analytical study of a concrete case linked to the phenomenon of terrorism. The theoretical support provides a general characterization of the processes of democratic transition and details the manifestation of political violence within the framework of the Basque territorial question. In the empirical field, the analysis falls on the prolonged strategy of ETA's armed struggle in the conjuncture articulated by the approval of the Statute of Autonomy in the 1979 year and goes deeper into the valuation of a series of hypotheses: on the one hand, the representative weakness of the Herri Batasuna's candidature against the hegemonic consolidation of a moderate nationalism; and on the other, the organizational solidity backed by the configuration of a legitimating community around the radicalized discourse of the Basque independence movement.
Collections