Publication:
Refining geomagnetic field intensity changes in Europe between 200 CE and 1800 CE. New data from the Mediterranean region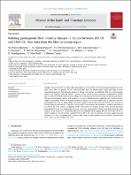 Advisors (or tutors)
Editors
Abstract
Absolute past geomagnetic intensity values can mainly be recovered by fired archaeological materials and volcanic rocks. Here, we present 10 new archeointensities from the Mediterranean region that help to better constrain geomagnetic field intensity changes in Europe over the last two millennia. The new archeointensity results were obtained from the Thellier classical method including thermoremanent magnetization (pTRM) checks and both the TRM anisotropy and cooling rate corrections and were derived from at least three specimens. The new data presented, together with a selection of previous archeointensities satisfying a set of quality criteria, confirm the presence of several intensity maxima in Europe over the last 2000 years. In particular, the new archeointensities allow to better define the starting point of the double-oscillation feature that occurred in Europe during the second half of the first millennium CE, and reinforce the existence of a relative maximum at the end of the 14th century - beginning of the 15th century in Western Europe. From selected European archeointensities two new paleosecular variation curves are constructed for Western and Eastern Europe using temporal cubic b-splines in a bootstrap approach. The obtained curves suggest that the occurrence of the intensity maxima is characterized by a period of about 300 ± 50 years. In addition, our results suggest that the maxima do not occur simultaneously in Western and Eastern Europe, pointing out an intensity eastward drift with a mean lag-time of about 100 years.
Description
© 2021 Elsevier B.V. All rights reserved. This research has been funded by the CGL2015-63888-R (PI: M. Gómez-Paccard) and PGC2018-099103-A-I00 (PI: F.J. Pavón-Carrasco) projects and the FPI BES-2016-077257 (MRM) grant of the Ministerio de Ciencia, Innovación y Universidades (Spain). The ceramic samples from the Balearic Islands were obtained in synergy with the project ARCHREMOTELANDS (HAR2017-83335-P), PI: Miguel Ángel Cau Ontiveros, funded by the Ministerio de Ciencia, Innovación y Universidades, with contribution from the ERDF from the European Commission, and is part of the activities of the ERAAUB, Consolidated Group (2017 SGR 1043), thanks to the support of the Comissionat per a Universitats i Recerca del DIUE de la Generalitat de Catalunya. The authors wish to acknowledge the professional support of the CSIC Interdisciplinary Thematic Platform Open Heritage: Research and Society (PTI-PAIS). All archaeologists are acknowledged for their contribution and guidance during sampling. We extend our warm thanks to our colleagues of the IPGP (Paris), especially to France Lagroix and Jean-Pierre Valet, where the FORCs were performed. The raw data corresponding to this article are available on Magnetics Information Consortium (MagIC) database and can be accessed in the link.
Collections