Publication:
Evolución en dos etapas de las cuencas pérmicas del borde Noreste del Sistema Central español. Análisis sedimentológico y procedencia de materiales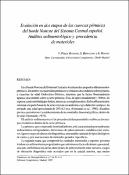 Authors
Advisors (or tutors)
Editors
Abstract
En el borde Noreste del Sistema Central se localizan dos pequeños afloramientos pérmicos. En ambos los materiales pérmicos se sitúan en discordancia sobre pizarras y cuarcitas de edad Ordovícico-Silúrico, mientras que la facies Buntsandstein aparece discordante sobre la serie pérmica. Esta, de aproximadamente 1.500 m. de espesor, está constituida por lutitas, areniscas y conglomerados. En los afloramientos orientales la parte basal de la serie consiste en andesitas cuya datación isotópica ha arrojado una edad aproximada de 287±12 m.a. (Hernando et al, 1980). Estudios previos permitieron el establecimiento de tres unidades litoestratigráficas dentro de la serie (Hernando, 1975). El análisis sedimentario y el de procedencia han permitido establecer dos etapas evolutivas dentro de la serie pérmica. La primera, que comprende la unidad inferior, está caracterizada por tendencias sedimentarias retrogradantes, direcciones de paleocorrientes variables entre sectores, ligeros rasgos de alteración diagenética, una amplia variedad de tipos litológicos de cantos y por asociaciones de minerales pesados específicas. La segunda etapa, que comprende las unidades intermedia y superior, presenta tendencias sedimentarias progradantes que culminasen facies de abanico proximal, una neta uniformización de las direcciones de paleocorriente entre sectores, rasgos de alteración diagenética más acusados que en la unidad anterior, una menor variabilidad en los tipos composicionales de cantos y asociaciones de minerales pesados características. La primera etapa corresponde a los movimientos dextrales de la Falla de Somolinos, mientras que la segunda etapa está relacionada con una actividad netamente vertical de la misma. Este último estadio da lugar a la uniformización de las direcciones de paleocorriente entre sectores y a una tendencia sedimentaria progradante generalizada. Debido a la dinámica sucesiva, Lateral y vertical, de la Falta de Somolinos, diferentes materiales, tanto en edad como en naturaleza,pudieron haber contribuido como áreas fuente de los depósitos pérmicos.
Two small permian outcrops are located in the intersection of te northeasterrí edge of the Spanish Central System and the Iberian Cordillera. In both outcrops permian materials overlies shales and quartzites ofordovician-silurian age. Triassic Buntsandstein facies appears in unconfonnity over permian rocks. Permian series, abont 1.500 m. thick, are made up of mudstones, sandstones and conglomerates. In the eastern sector te lower most part of the permian materials consists in andesitic rocks whose radiometricage (287±12b.y.) was established by Hernandoeral. (1980). Previous works established three lithostratigraphic units in the Permian materials (Hernando, 1975). Both sedimentary and source area analysis allow to summarize two evolutive siages in the permian sedimentation. The firstone, that comprises te lower most unit is characterized by retrogradational sedimentary trends, variable paleocurrent pattems between sectors, weak diagenetic alteration features, wide variety of lithological types of clasts and specifical heavy mineral associations. The second stage, that comprises both te middle and te uppermost units, shows progradational sedimentary trends that culminate into proximal fan facies, clear um formity of the paleocurrent patterns, sparse variety of lithotogial types of clasts and characteristic heavy mineral associations. The first stage corresponds tectonically to te right-lateral movements of the Somolinos Fault, whereas the sccond stage is related with the normal running of the same fault. This latter stage of evolution gaye rise to the uniformization of the paleocurrent patterns and to the sedimentary progradational trends. Due to the lateral dynamics of the Somolinos Fault different materials, both in age an nature, could have contributed as source areas of the permian deposits.
Collections