Publication:
Las remesas de los inmigrantes en España: el marco jurídico español e internacional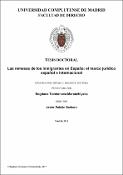 Files
Authors
Advisors (or tutors)
Editors
Publisher
Universidad Complutense de Madrid
Abstract
La presente investigación aporta una mayor claridad en el conocimiento de las remesas teniendo en cuenta las acciones de los distintos actores que participan en la actividad, y más especialmente el rol de los intermediarios financieros. Han sido analizados la postura de los organismos internacionales, la de los proveedores de servicios de pago y de los propios consumidores, así como los marcos jurídicos que regulan el envío de dinero en términos de la actividad en sí y en cuanto a la prevención de blanqueo de capitales y financiación del terrorismo. Las remesas son aquellas pequeñas cantidades de dinero que materializan el altruismo de las personas desplazadas que quieren ayudar a otras personas, generalmente más necesitadas. A partir de los primeros años del siglo XXI los organismos internacionales empezaron a mostrar su preocupación por la falta de suficientes estudios científicos sobre remesas, las carencias en la proporción de datos estadísticos, el precio de las remesas y su contribución al desarrollo. Dada su heterogeneidad, los múltiples canales de circulación y el distinto grado de implicación de los Estados a la hora de proporcionar correctamente los datos, este tipo de transacciones son muy difíciles de medir en comparación con las demás partidas en las balanzas de pagos. Gracias a organismos internacionales como el Grupo del Banco Mundial y el Fondo Monetario Internacional hoy en día tenemos una idea mucho más clara de la naturaleza y el volumen de esta inversión internacional privada que se ha multiplicado por cuatro en lo que llevamos de siglo. Sin embargo, el elevado precio de las remesas que se dirigen a los países más pobres del mundo no ha disminuido diez años después de las primeras muestras de interés por parte de las voces autorizadas...
This study provides greater clarity on the knowledge of remittances, taking into account the actions of the different actors who participate in this activity and especially the role of financial intermediaries. The positions of international organizations, the payment service providers, the customers, and the legal frameworks which regulates sending money in terms of the activity itself and the prevention of money laundering and terrorist financing have been analyzed. Remittances are small amounts of money that represent the altruism of displaced people who want to help other, generally needier, people. Since the first years of the 21st century, international bodies began to express their concern about the lack of scientific studies on remittances, a shortage in the supply of statistical data, the price of remittances and their contribution to development. Given their heterogeneity, the many channels of circulation and the different levels of implication of states when providing accurate data, these types of transaction are very difficult to measure in comparison with the rest of entries in balances of payments. Thanks to international bodies such as the World Bank Group and the International Monetary Fund, nowadays we have a much clearer idea of the nature and volume of this private international investment, which has quadrupled so far this century. Nevertheless, the high price of remittances sent to the poorest countries of the world has not decreased in the ten years since authorities first expressed interest in the issue...
Description
Tesis inédita de la Universidad Complutense de Madrid, Facultad de Derecho, leída el 26/01/2017
Collections