Publication:
Terraform: simulación de vida sobre planetas generados.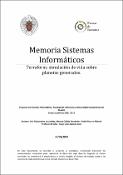 Advisors (or tutors)
Editors
Abstract
"Terraform: simulación de vida en planetas generados" es un proyecto en el que nos propusimos el aprender las nociones básicas sobre creación de videojuegos y superar las dificultades que ello supone. El videojuego en si es un simulador de vida que permite la generación de planetas de forma procedural mediante el uso de ruido perlin, permitiendo al usuario final modificar algunos de los parámetros. Durante el transcurso del juego el jugador manejara una nave en su empresa de convertir este planeta en uno más similar a la tierra, permitiendo a la vida asentarse, para permitir su posterior colonización. El objetivo del juego es construir ciertas estructuras que proporcionan recursos que luego usaremos para crear plantas y animales que formen un ecosistema en la superficie del planeta. Como motor para la creación hemos usado Unity3D, que tiene la ventaja de ser un editor muy poderoso con una versión gratuita y una curva de aprendizaje suave. Todos los elementos del juego salvo alguna excepción han sido creados a mano en Blender, un editor de modelos 3D opensource y gratuito.
"Terraform: life simulation on generated planets" is a project in which we aimed to learn the basics of videogame creation and overcome the challenges that it takes to do so. The videogame itself is an artificial life simulator that allows the procedural generation of planets by using perlin noise, allowing the final user for modification of certain parameters. During gameplay the player will handle a starship in its quest of making planets more Earth-like, allowing life on them, to later on populate them with its civilization. The objective of the game is to build certain structures that provide resources we will later use to create plants and animals to sustain an ecosystem on the surface of the planet. We used Unity 3D as game engine, which has the advantage of being a very powerful engine with a free version and a smooth learning curve. Every asset of the game save some exceptions is handicrafted by ourselves, such as the 3D modelsof Plants, Animals, the Starship and the structures, all made in the free, opensource 3D modelling software Blender.
Description
Proyecto de Sistemas Informáticos (Facultad de Informática, Curso 2011-2012)
Collections