Publication:
El proceso de internacionalización de las empresas manufactureras españolas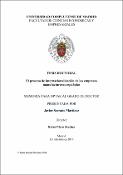 Files
Authors
Advisors (or tutors)
Editors
Publisher
Universidad Complutense de Madrid
Abstract
El objetivo de esta tesis doctoral es analizar el proceso de internacionalización de las empresas manufactureras españolas. Gracias a una muestra de más de 5.500 empresas entre los años 1990 y 2015, se pretenden presentar los principales determinantes de la exportación y de la inversión extranjera directa, desde la perspectiva de la heterogeneidad empresarial. Así, esta tesis doctoral está dividida en cinco capítulos netamente diferenciados, pero conectados entre sí. En primer lugar, el Capitulo 1 sirve de introducción al contenido de la tesis, en donde se presenta el marco teórico en el que se encuadra este trabajo, así como el interés que se desprende del estudio del comercio internacional de las empresas españolas. A continuación, los tres capítulos centrales de este manuscrito conforman las tres principales contribuciones de esta tesis a la literatura del comercio internacional. Así, el Capítulo 2 analiza el papel que la calidad de gestión empresarial juega en el proceso de internacionalización de las empresas, comparando su importancia con la de la productividad. El Capítulo 3 es un estudio acerca de los principales cambios que sufren las empresas a raíz de su entrada en los mercados internacionales, en otras palabras, un análisis sobre el impacto de la exportación en el desempeño empresarial. Por otro lado, el Capítulo 4 analiza un asunto de gran interés actual, esto es, el rol del proceso de transformación digital en los principales resultados empresariales, con especial atención al papel de la digitalización en la internacionalización. Finalmente, en el Capítulo 5 se presentan las principales conclusiones que se derivan de esta tesis así como sugerencias acerca de futuras líneas de investigación.
The aim of this Ph.D. thesis is to analyse the process of internationalization of Spanish manufacturing firms. Using a sample of more than 5.500 firms during the period 1990-2015, we try to depict the determinants of exporting and foreign direct investment, from the firm heterogeneity perspective. Hence, this thesis is divided into five chapters clearly differentiated, but interconnected. Firstly, the Chapter 1 serves as an introduction to the content of the thesis, presenting the theoretical framework and the empirical results of previous research, as well as the interest in the study of the international trade of Spanish firms. The next three chapters of this manuscript offer the main contributions of this work to the international trade literature. Therefore, Chapter 2 analyses the role that management practices have in the process of internationalization of firms, comparing its importance to the one of productivity. Chapter 3 is a study focusing on the main changes arising within the firm following its entry into export markets, in other words, a research regarding the impact of exporting on the firm performance. Furthermore, Chapter 4 is focused on an issue of a great recent interest, that is, the role that the digitization process has on the main indicators of the firm performance and competiveness, with a special consideration on the impact of the digital technologies on international trade. Finally, the main conclusions derived from this thesis are presented in Chapter 5, together with some suggestions and indications regarding future research lines.
Description
Tesis de la Universidad Complutense de Madrid, Facultad de Ciencias Económicas y Empresariales, leída el 26-06-2018
Collections