Publication:
Etiqueta y ceremonial: aproximaciones a la imagen del rey en la Corte de los Austrias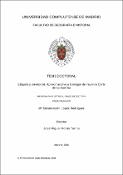 Advisors (or tutors)
Editors
Publisher
Universidad Complutense de Madrid
Abstract
La investigación que sirve de argumento a esta tesis, presentada en la Universidad Complutense de Madrid, tiene como objetivo el estudio de algunos aspectos de la etiqueta y el ceremonial para comprender mejor la imagen del rey en la Corte de los Austrias. En el primer capítulo analizamos la importancia de la etiqueta y el ceremonial, tanto en sus aspectos de gobierno como en los que afectan a la imagen del monarca. Exponemos las dificultades que los diferentes Habsburgos españoles se encontraron para articular el régimen de gobierno polisinodial que caracterizaba a la Monarquía Hispánica, y la vinculación directa que ello suponía con la organización de su palacio. El objetivo ha sido estudiar las diferentes secciones de la "Casa del Rey" para comprobar cómo los departamentos, junto a sus oficios, a la vez que permitían una buena organización doméstica, también lograban la integración de las élites de los distintos reinos. Establecemos, en esta primera parte, cómo se ambicionaban los mejores puestos de palacio como garantía para asegurarse una participación directa en la política de gobierno. Pero, además, también comprobamos cómo la etiqueta y el ceremonial ayudaban a configurar una imagen de poder y sofisticación que claramente afectaban a la imagen del rey y al conjunto de sus cortesanos...
The research underpinning the argument of this thesis, presented at the Universidad Complutense de Madrid, is intended to examine some of the aspects of etiquette and ceremony so as to better understand the image of the king in the Court of the Habsburgs. In the first chapter we analyze the importance of etiquette and ceremony, both as these affect governance and the image of the monarch. We present the obstacles facing the various Spanish Habsburgs to craft the multi-council system of government that characterized the Spanish Monarchy, and how this was directly related to the organization of the palace. The goal was to study the various departments in the "House of the King" to see how they, and their officials, not only allowed for proper organization, but also managed to integrate the elite of the various kingdoms. In this first part we lay out how the best posts in the palace were aspired to so as to ensure a direct involvement in the politics of government. We also see how etiquette and ceremony helped shape an image of power and sophistication clearly affecting the image of the king and his court as a whole...
Description
Tesis inédita de la Universidad Complutense de Madrid, Facultad de Geografía e Historia, leída el 14-01-2016
Collections