Publication:
Europa después de la lluvia: melancolía y resistencia en Max Aub, Giorgio Bassani y W.G. Sebald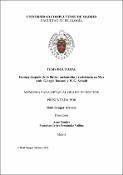 Files
Authors
Advisors (or tutors)
Editors
Publisher
Universidad Complutense de Madrid
Abstract
A partir de Walter Benjamin y, en particular, de su análisis y comprensión de la modernidad a través del Barroco, puede construirse una categoría ético-estética, una poética melancólica que sirva para indagar críticamente sobre determinadas obras y autores que ponen en valor una determinada función de la literatura y de las artes, una función social, antropológica, cultual; o, sise prefiere, una reivindicación de la literatura y las artes como formas sociales, colectivas, de resistencia y preservación. Para ello, las operaciones fundamentales de este trabajo son tres: se trata de extraer, desplegar y aplicar. En primer lugar, extraer. Extraer los contenidos básicos de esa poética melancólica entre la amplia obra de Benjamin, sin violentarla, sin asumir completamente sus postulados, pero sin restarle coherencia. En segundo lugar, desplegar. Desplegar, en el sentido de comentar críticamente, ampliando ciertos elementos, relaciones e interpretaciones posibles. Pero no se trata, solamente, de definir los contenidos de una poética, sino de constatar su utilidad y actualidad, es decir, en tercer lugar, aplicar. Aplicar esa poética como instrumento de sentido o pauta de lectura...
Drawing from Walter Benjamin and precisely from his analysis and comprehension of Modernity throughout the Baroque, we can build an ethical-aesthetical category, a kind of poetic of melancholy that can be useful to explore certain works and artists that value a very precise role for literature and the arts: a social role, an anthropological role, a "worshipful" (cultual) role; or rather, the recognition of literature and the arts as social and collective forms of resistance and preservation. To obtain this, the three fundamental aims of this work are to extract, to display and to apply. Firstly, we have to start extracting the basic contents of this particular poetic from the broad work of Benjamin without violating it: neither completely assuming all of its arguments nor belittling its coherence. Secondly, we have to display his theories in the sense of critically commenting, of expanding certain elements, relationships and possible interpretations. But it is not only a matter of defining the contents of a certain poetic, but also of evaluating its usefulness and actuality, which means arriving, thirdly, to the phase of application. To apply this poetic as an instrument of sense or as a reading guideline...
Description
Tesis inédita de la Universidad Complutense de Madrid, Facultad de Filología, leída el 22-11-2019
Collections