Publication:
Experimental and theoretical electron-scattering cross- section data for dichloromethane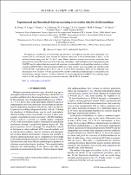 Advisors (or tutors)
Editors
Abstract
We report on a combination of experimental and theoretical investigations into the elastic differential cross sections (DCSs) and integral cross sections for electron interactions with dichloromethane, CH₂Cl₂, in the incident electron energy over the 7.0-30 eV range. Elastic electron-scattering cross-section calculations have been performed within the framework of the Schwinger multichannel method implemented with pseudopotentials (SMCPP), and the independent-atom model with screening-corrected additivity rule including interference-effects correction (IAM-SCAR+I). The present elastic DCSs have been found to agree reasonably well with the results of IAM-SCAR+I calculations above 20 eV and also with the SMC calculations below 30 eV. Although some discrepancies were found for 7 eV, the agreement between the two theoretical methodologies is remarkable as the electron-impact energy increases. Calculated elastic DCSs are also reported up to 10000 eV for scattering angles from 0⁰ to 180⁰ together with total cross section within the IAM-SCAR+I framework.
Description
©2018 American Physical Society. Portuguese National Funding Agency FCT [SFRH/BD/52536/2014, IF-FCT IF/00380/2014, UID/FIS/00068/2013]; Brazilian Agency Conselho Nacional de Desenvolvimento Cientifico e Tecnologico (CNPq); Science Without Borders programme for opportunities to study abroad; Brazilian Agency Coordenacao de Aperfeicoamento de Pessoal de Nivel Superior (CAPES), under CAPES/FCT Programme (CAPES) [23038.002465/2014-87]; Brazilian Agency Coordenacao de Aperfeicoamento de Pessoal de Nivel Superior (CAPES), under CAPES/FCT Programme (FCT) [2267]; CNPq; Spanish Ministerio de Economia y Competitividad [FIS2012-31230]; Radiation Biology and Biophysics Doctoral Training Programme (RaBBiT) [PD/00193/2010, UID/Multi/04378/2013]
Collections