Publication:
Generación procedimental de ecosistemas y biomas y evolución inteligente de seres vivos en entornos naturales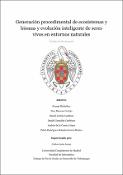 Advisors (or tutors)
Editors
Abstract
Este es un estudio sobre la creación de un generador procedimental de personajes, más concretamente animales, que se pueden importar e interpretar como uno quiera, ya que genera resultados basados en datos. Los generadores procedimentales son uno de los mecanismos más convenientes a la hora de crear contenido en un proyecto informático, siempre que este lo permita, ya que reduce el esfuerzo humano a través de la automatización de tareas. Hacen referencia al conjunto de técnicas que se emplean principalmente en la industria del videojuego, y se utilizan para una pluralidad de objetivos, desde generar mapas o mundos virtuales hasta música con motivos dinámicos o incluso automatizar la generación de personajes. Un animal es la consecuencia de un proceso de adaptación en su entorno, y por lo cual sus propiedades representan hasta cierto punto las características de este. Esto es un factor que se puede analizar y explotar. Dado un terreno con unas características, se pretende crear una serie de criaturas que interactúen entre sí y con el mundo que habitan, simulando la evolución para crear un ecosistema creíble, realista y sostenible. Además, para mostrar la veracidad de la simulación, se exporta el programa a un motor externo para demostrar el funcionamiento de la simulación y la utilidad de los datos resultantes. El proyecto tiene una gran relación con la inteligencia artificial, y se basa en cuatro ramas del conocimiento principales: generación procedimental, para crear un mundo habitado; ingeniería de comportamientos, usando una máquina de estados y búsqueda de caminos para simular el comportamiento de las criaturas; programación evolutiva, para codificar la información de una criatura y realizar la reproducción entre estas y, finalmente, un cierto conocimiento del motor externo a utilizar como ejemplo para adaptar y mostrar los datos en dicho entorno. Para evaluar el correcto funcionamiento de este programa se van a usar dos métodos: una prueba con usuarios en la que se pide a personas ajenas al proyecto que evalúan los datos resultantes en base a su experiencia y usar un sistema de telemetría basado en eventos que permite la recolección de datos para su posterior análisis, y de esta forma llegar a conclusiones que permitan la mejora y depurado del proyecto.
This is a study about the creation of a procedural generator of characters, more specifically animals, which can be imported and interpreted however one wants, since it generates data based results. Procedural generators are one of the most convenient mechanisms available when it comes to creating content in a computer program , as long as it is reasonable within its context. This is due to this procedure reducing human labour through the automatization of tasks. The concept of procedural generators references the set of techniques used mainly in the videogame industry, and are used to accomplish a variety of goals, from generating maps or virtual worlds to music with dynamic motifs or the aforementioned generation of characters. An animal is the consequence of a process of adaptation to its environment, and therefore its properties represent to a certain degree the characteristics of the latter. This is a factor that can be analyzed and exploited. Given a terrain with a certain set of characteristics, this study pretends to create a series of creatures that interact among themselves and with the world they inhabit, simulating the concept of evolution to create a believable, realistic, sustainable environment. Furthermore, in order to prove the veracity of the simulation, it is exported to an external engine to demonstrate the inner workings of the simulation and the utility of the resulting data. This project is closely related to artificial intelligence and based around for main branches of knowledge: procedural generation, in order to create an inhabited world; behavioral engineering, using a state machine and pathfinding to simulate the behaviors of the creatures; evolutionary computing, to represent the creatures' genetic information and allow for realistic reproduction and, lastly, a certain amount of expertise related to the external engine chosen in which the resulting data will be displayed as an example. In an effort to evaluate the correct performance of this program two methods will be used: a user based test in which people alien to the project evaluate the resulting data based on their experience with it and using a event telemetry system that allows for the collection of data for a posterior analysis, so that conclusions can be reached on how to improve the effectiveness of the project.
Description
Trabajo de Fin de Grado en Desarrollo de Videojuegos, Facultad de Informática UCM, Departamento de Ingeniería del Software e Inteligencia Artificial, Curso 2021/2022. Para el control de versiones se utilizará un repositorio público en GitHub conteniendo tanto el proyecto de simulación como la adaptación a Unity. Se puede acceder al repositorio del estudio en el enlace: https://github.com/georgimednikov/TFG2122.