Publication:
Al hilo de la precaución: Jonas y Luhmann sobre la crisis ecológica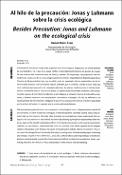 Authors
Advisors (or tutors)
Editors
Publisher
Universidad Complutense de Madrid
Abstract
El Principio de Precaución surge como respuesta a la crisis ecológica. Diagnostica un mundo poblado de incertidumbres y en el que no se puede confiar en las tradicionales técnicas de gestión de riesgos. De esa situación dan cuenta las obras de Jonas y Luhmann. En un principio, sus propuestas son contradictorias, Jonas concibe la crisis ecológica como crisis moral y es partidario de atajarla siguiendo un Principio de Responsabilidad que nos sensibilice ante los eventuales efectos catastróficos de las intervenciones humanas sobre el entorno natural. Luhmann, por el contrario, concibe la crisis coma una crisis sistemática que responde a las complejas relaciones de alcance evolutivo entre el sistema sociotécnico y el entorno natural. Esa crisis no puede ser administrada recurriendo a la moral, sino sólo generando espacios de entendimiento abiertos al aprendizaje y la variación. A pesar de estas diferencias, Jonas y Luhmann muestran una insospechada coincidencia estrátegica; los dos se enfrentan a un mundo poblado de incertidumbres abogando a favor de su reconducción retórica, el primero apostando por la retórica del miedo; el segundo, por la retórica del entendimiento.
The precautionary principle arises as a response to the ecological crisis. It diagnosticates a world full of uncertainty in which traditional techniques of risk management cannot be trusted. Jonas and Luhmann take up this situation. Basically, their porposals are contradictory. Jonas understands the ecological crisis as a moral crisis and defends its control by following a principle of responsibility which makes us aware of the possible catactrophic effects of the human interventions in the natural environment. Luhmann, on the contray, unsderstand the crisis as a system and the natural environment. This crisis cannnot be managed based on morality but only by creating areas of understanding open to learning and changes, inspite of these differences, Jonas and Luhmann show surprising strategic coincidences both are confronted with a world full of uncertainty and defend its rhetorical reconduction. Jonas, comitting himself to the rhetoric of fear; and Luhmann to the rhetoric of understanding.
Collections