Publication:
A vueltas con los derechos especiales de fundadores y promotores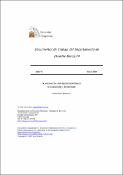 Authors
Advisors (or tutors)
Editors
Abstract
Cabe remunerar a fundadores o promotores de una sociedad anónima por la idea creativa de la empresa o por sus desvelos para su constitución con derechos especiales en calidad de terceros que habrán de constar en los estatutos. Han de ser de contenido económico, si bien se discute si caben ventajas diferentes a la participación en beneficios, limitadas temporalmente y en su cuantía por la ley española. Durante la vida de la sociedad, tales derechos pueden verse afectados por diferentes acuerdos societarios (aumento o reducción del capital, sustitución del objeto social, transformación, fusión, escisión o disolución de la sociedad, etc.). En este trabajo se pasa revista a los efectos de tales acuerdos y se examina la posibilidad de que se cree una asamblea de beneficiarios de los derechos especiales. Abstract: The efforts of founders and promoters of a Corporation can be rewarded with specific rights, provided that they are included in the company's Articles. These rights must only offer economic advantages, although the Spanish law is not clear about if it would be possible to enjoy other advantages in addition to a share of profits, limited, anyhow, in time and amount. During the Corporation life, some decisions (concerning capital increase or decrease, change of corporate aims, transformation, merger, division, dissolution and so on) might affect those rights. This paper reviews the effects of these decisions and studies if it would be possible for the horlders of specific rights to establish a legal group in order to protect their advantages.