Publication:
El rol del gobierno electrónico en el derecho a la información. El derecho de acceso a la información pública y las tecnologías de información en Chile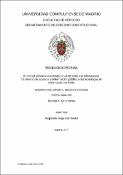 Files
Authors
Advisors (or tutors)
Editors
Publisher
Universidad Complutense de Madrid
Abstract
Esta investigación tiene por objeto el estudio de la incidencia que tiene el Gobierno Electrónico en el ejercicio del derecho a la Información, enfocado en su variable de Acceso a la Información Pública. Así, emplea como dimensión orientadora y configuradora del presupuesto provisional básico, la constatación en Chile del Gobierno Electrónico como un entorno instrumental facilitador, que propicia el ejercicio del derecho de Acceso a la Información Pública, integrante del Gobierno de la Información, que centra su análisis en los flujos de información y en los derechos fundamentales que inciden en dichos flujos. Desarrollo El trabajo formula en su desarrollo, como primera aproximación, una exégesis histórica del derecho a la Información en Chile, en el contexto de la evolución de la sociedad de la información, contemplando una revisión de antecedentes normativos que van configurando este derecho, al alero de los progresos sociales y tecnológicos. Este estudio contempla desde los años 1812 y hasta 1980, en que se dicta la Constitución Política de la República actualmente vigente en Chile. Con posterioridad, se realiza un análisis del estatuto jurídico aplicable, centrándose, como primer elemento, en algunos aspectos que definen a la Carta Fundamental chilena de 1980, primordialmente en la concepción de "democracia protegida", que le otorga ciertas características que se mantienen vigentes con ella, evidenciando la necesidad de efectuar cambios estructurales que permitan robustecer la democracia chilena...
This research aims to study the incidence of Electronic Government on the exercise of the Right to Information, approached in relation to its Access to Public Information variable and using, as a base provisional budget, the proof in Chile of the Electronic Government as an enabling environment that is part of the Government of Information, which focuses its analysis on information flows and fundamental rights they may affect. Development It starts with a historic exogenesis of the Right to Information in Chile, in the context of the information society evolution, including a review of normative background that gradually forms this right, under the wing of social and technological progress, embracing the years from 1812 to 1980 inclusive. In Chapter I, an analysis of the applicable legal status is performed, focusing on certain aspects of the Chilean Constitution of 1980 and primarily based on the concept of "protected democracy", determining characteristics that remain in force. Chapter II defines the legal-political nature of the Right to Access Public Information that, in its development as a right, grants effectiveness to the Principles of Probity, Transparency and Managerial Advertising, vindicating its fundamental right nature and reaffirming its Constitution"s enshrinement in Article 19 No. 12 and not in Article 8, which refers to the Principles of Probity, Transparency and Managerial Advertising, contributing to its effectiveness. Similarly, the view of considering this right within Article 20 of the Spanish Constitution is emphasized, without estimating that its reference in Article 105, letter b), states the consideration on granting effectiveness to the Principle of Transparency...
Description
Tesis inédita de la Universidad Complutense de Madrid, Facultad de Derecho, Departamento de Derecho Constitucional, leída el 12/01/2016
Collections