Publication:
Corporate social reponsibility, corporate reputation, customer satisfaction and firms' market value: an analysis and conclusions from the automobile industry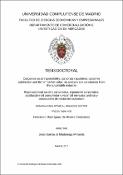 Files
Advisors (or tutors)
Editors
Publisher
Universidad Complutense de Madrid
Abstract
There has been a lot of discussion about corporate social responsibility (CSR) during these last decades. Neoclassical authors support the idea that CSR is not compatible with the objective of profit maximization, and defenders of CSR argue that, in these times of globalization and network economies, the idea of a company managed just to meet shareholders' interests does not support itself. However, beyond this discussion, how can CSR affect firms' market value? If a positive relationship were found between these variables, it could be concluded that the two theories are reconcilable and the objective of profit maximization, perhaps, should satisfy not only shareholders' interests, but also stakeholders'. This relationship between CSR and firmś Market Value (MV), in accordance with theory, uses to be not direct, but indirect, and mediated through other variables. In this research it is posited that CSR might affect MV through Corporate Reputation (CR) and Customer Satisfaction (CS). Taking into account previous literature, there are besides control variables as industry, corporate abilities, stakeholderś awareness or even the size of the company which can bias results, misleading both academics and managers. As a consequence of this, it is proposed that those CSR initiatives which could work in an industry might not work in others. From this point of view, a new approach is proposed, focusing our research in a single industry: automotive. Automobile Industry has a huge economic, social and environmental impact. In addition, it is a concentrated industry where 14 companies share out 80 per cent of the global market, firms have similar size (or at least they compete globally) and which invest important quantities every year both in R&D and marketing (what it should impact on awareness)...
Ha habido mucha discusión acerca de la Responsabilidad Social Corporativa (RSC) durante las últimas décadas. Los autores neoclásicos apoyan la idea de que la RSC es incompatible con el objetivo de la maximización del beneficio, mientras los defensores de la RSC argumentan que, en estos tiempos de globalización y economías de red, la idea de una compañía gestionada únicamente pensando en satisfacer exclusivamente las necesidades de los accionistas no se sostiene. Más allá de este debate, ¿cómo puede la RSC incidir en el valor de mercado de la empresa? Si halláramos una relación positiva entre estas variables, podríamos concluir que las dos teorías no son irreconciliables y que el objetivo de la maximización del beneficio tal vez no sólo satisfaga los intereses de los accionistas, sino también los del resto de los stakeholders. Esta relación entre RSC y Valor de Mercado de las empresas (VM), de acuerdo con la literatura existente, no suele ser directa, sino indirecta, y mediada por otras variables. En esta investigación proponemos que la RSC podría afectar al VM de las compañías analizadas a través de la Reputación Corporativa (RC) y la satisfacción del consumidor (SC). Teniendo en cuenta los estudios previos, existen además una serie de variables de control, tales como la industria, las habilidades corporativas, la consciencia por parte de los grupos de interés de las actividades llevadas a cabo por las empresas o incluso el tamaño de éstas, pueden sesgar los resultados llevando a conclusiones erróneas tanto a los investigadores como a los gestores de las empresas. Como consecuencia de ello, se asume que ciertas iniciativas que podrían funcionar en un sector, podrían no hacerlo en otros. Bajo este prisma, se propone un nuevo enfoque en relación a otras investigaciones anteriores, al centrarnos en una única industria: la del automóvil...
Description
Tesis inédita de la Universidad Complutense de Madrid, Facultad de Ciencias Económicas y Empresariales, Departamento de Comercialización e Investigación de Mercados, leída el 11/12/2015
Collections