Publication:
Estudio de los hábitos de vida del paciente que presenta síntomas de estreñimiento. Tratamiento desde la farmacia comunitaria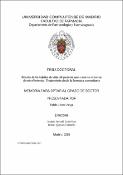 Files
Authors
Advisors (or tutors)
Editors
Publisher
Universidad Complutense de Madrid
Abstract
La creciente complejidad en el tratamiento farmacológico de los pacientes ha provocado un cambio en la forma de entender la actividad profesional en las oficinas de farmacia. Englobado dentro del concepto de la Atención Farmacéutica (AF), el seguimiento farmacoterapéutico ha colocado al farmacéutico como agente activo y corresponsable de los resultados en salud. Los problemas relacionados con los medicamentos: dosis no óptimas, prescripciones inapropiadas, bajo seguimiento de los tratamientos, son causas que elevan la morbilidad y la mortalidad por el mal uso de los fármacos y representan altos costes para la sociedad. Para evitar en lo posible estos problemas los pacientes requieren de la Atención Primaria (AP), de forma continuada, de la Atención Especializada (AE), en determinados procesos o agudizaciones de su enfermedad crónica, y de la Atención Farmacéutica (AF), para el seguimiento y buen uso de los tratamientos. Esta última se presenta como una alternativa de calidad que puede llegar a ser muy eficaz para conseguir mejorar el resultado de los tratamientos y la asistencia a los pacientes. Hay patologías que por sus características especiales en relación a su prevalencia y tamaño de población afectada, el farmacéutico comunitario puede aportar sus conocimientos para colaborar en el buen desarrollo del tratamiento. Una de ella es el estreñimiento, tratada como un síntoma, y no como una patología, se considera de manifestación subjetiva. El estado de malestar de las personas que lo padecen puede ser distinto para cada una de ellas, y va, desde trastornos relacionados con la dificultad en la evacuación de las heces, emisión de heces de escaso volumen, de consistencia aumentada, o dolor durante la defecación, a sensaciones personales como evacuaciones infrecuentes o sensación de evacuación incompleta. El estreñimiento puede ser percibido como un trastorno leve por el paciente, aunque lo suficientemente molesto como para requerir la ayuda de un profesional sanitario, y que es susceptible de ser tratado con medicamentos y/o con medidas no farmacológicas. Se trata por tanto, de un trastorno menor cuya atención se podría protocolizar con el objetivo de ofrecer al paciente la mejor atención posible...
The increasing complexity of patients' pharmacological treatment has led to a change in our way of understanding professional activity in pharmacies. Pharmacotherapeutic monitoring, one aspect within the concept of pharmaceutical attention (PA), has transformed the pharmacist into an active and co-responsible agent of healthcare outcomes. Medication-related problems such as non-optimum doses, inappropriate prescriptions and low treatment adherence cause increased morbidity and mortality rates due to the incorrect use of drugs, and represent a high cost to society. To avoid these problems as far as possible, patients require constant primary attention (PA), specialised attention (SE) in specific processes or in the aggravation of their chronic ailments, and pharmaceutical attention (PA) for monitoring and the proper use of treatments. This last is a quality alternative that can be very useful for improving treatment outcomes and patient care. There are some pathologies which, due to their special characteristics in terms of their prevalence and the size of the population affected, offer an opportunity for community pharmacists to contribute their knowledge to assist in the favourable development of the treatment. One example is constipation, which when treated as a symptom and not as a pathology is considered a subjective manifestation. This ailment may cause varying levels of discomfort in sufferers, ranging from difficulty in faecal evacuation, the emission of faeces with low bulk or increased consistency and pain during defecation, through to personal sensations such as infrequent evacuations or the sensation of incomplete evacuation. Constipation may be perceived as a petty disorder by the patient, although sufficiently distressing to require the help of a healthcare professional, and susceptible to treatment with medication and/or non-pharmacological measures. It is therefore a minor ailment whose treatment could be protocolised in order to offer the patient the best possible attention...
Description
Tesis inédita de la Universidad Complutense de Madrid, Facultad de Farmacia, Departamento de Farmacología, (Farmacognosia y Farmacología Experimental) , leída el 14-06-2017
Collections