Publication:
Senior Games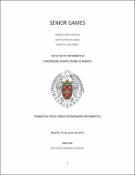 Advisors (or tutors)
Editors
Abstract
Nuestro proyecto pretende prestar atención a un grupo de personas que no siempre recibe toda la que necesita. Estas son las personas mayores, las cuales sufren un declive cognitivo debido al envejecimiento. Debido a esto, hemos desarrollado un videojuego serio que servirá para estudiar y analizar (GA) las capacidades de las personas mayores, como: memoria, orientación, atención, planificación o percepción. No pretendemos que el videojuego resuelva ni mejore los deterioros o problemas que presenten los jugadores por sí mismo. La función del videojuego es recoger, de manera entretenida y a la vez rigurosa, datos sobre el comportamiento de nuestros jugadores frente a situaciones típicas de la vida cotidiana que puedan suponer un reto para sus capacidades cognitivas. Estos datos recogidos se envían estandarizados a un servidor para su almacenamiento y cuantificación. Nuestro objetivo es que la información resultante pueda ser utilizada por psicólogas expertas en este ámbito, para detectar de manera prematura detrimentos en las capacidades de personas mayores. Lo cual, pueda servir para evitar la evolución de problemas más graves, o para encontrar posibles soluciones a los ya encontrados. Siguiendo este proceso el trabajo podría aportar beneficios terapéuticos a las personas mayores.
Our project aims to pay attention to a group of people who do not always get everything they need. These are the elderly, who suffer a cognitive decline due to aging. Because of this, we have developed a serious video game that will serve to study and analyze (GA) the capacities of the elderly, such as: memory, orientation, attention, planning or perception. We do not want the video game to solve or improve the damage or problems presented by the players by itself. The function of the video game is to collect, in an entertaining and at the same time rigorous, data about the behavior of our players against typical daily life situations that can be a challenge for their cognitive abilities. The collected data is sent standardized to a server for storage and quantification. Our goal is that the resulting information can be used by psychologists who are experts in this field to detect premature impairments in the capacities of older people. Which, can serve to avoid the evolution of more serious problems, or to find possible solutions to those already found. Following this process the project could provide therapeutic benefits to the elderly.