Publication:
Aportaciones a la historia de la fotografía indigenista mexicana. El fotógrafo Nacho López: Vida, obra y propuesta de un modelo de metadatos denotativo-morfológicos para el análisis de su obra en el Instituto Nacional Indigenista de México. (1950-1981)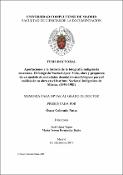 Files
Authors
Advisors (or tutors)
Editors
Publisher
Universidad Complutense de Madrid
Abstract
La presente tesis tiene como epicentro al fotógrafo mexicano Ignacio López Bocanegra (1923-1986) mejor conocido como Nacho López y su trabajo fotográfico en el Instituto Nacional Indigenista.López fue uno de los fotógrafos mexicanos más importantes en la segunda mitad del siglo XX pero sorprende que no exista una obra monográfica que incluya una biografía unitaria o un recuento completo de su obra, en particular su trabajo indigenista. La presente investigación subsana esta situación mediante una reseña biográfica que llena algunos vacíos y corrobora informaciones, así como un recorrido más completo de su obra, con particular énfasis en su trabajo fotográfico indigenista, uno de los menos estudiados. Por otra parte, ocurre algo similiar con el repaso histórico de la fotografía antropológicae indigenista en México que se encuentra igualmente atomizada. Así que esta investigación ha dado como resultado un recuento de los principales momentos y de las personalidades más importantes de la fotografía antropológica en México; se incluyen, desde luego, los aportes de la generación de fotógrafos indigenistas que trabajaron entre 1940 y 1970 como Héctor García,Julio de la Fuente, Alfonso Fabila y el propio Nacho López...
The center of this investigation is the Mexican photographer Ignacio López Bocanegra (1923-1986), a.k.a Nacho López, and his work at the National Indigenous Institute (INI). López was one of the most important Mexican photographers in the second half of the twentieth century, although it is surprising that there is not a complete monographic work that includes an unitary biography or a complete account of his work, in particular his indigenist photographs. The present investigation overcomes this situation through a biographical review that fills some gaps and corroborates information, as well as a revision of his work as a whole, with particular emphasis on his indigenist photographic oeuvre, one of the least studied. On the other hand, something similar happens with the historical review of anthropological and indigenist photography in Mexico that is similarly atomized. So this research has resulted in a recount of the main moments and the most important personalities of anthropological photography in Mexico; it includes, of course, the contributions of the generation of indigenist photographers who worked between 1940 and 1970 such as Héctor García, Julio de la Fuente, Alfonso Fabila and Nacho López...
Description
Tesis de la Universidad Complutense de Madrid, Facultad de Ciencias de la Documentación, leída el 22-01-2019
Collections