Publication:
Canonical transformations for hyperkahler structures and hyperhamiltonian dynamics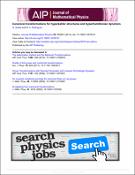 Advisors (or tutors)
Editors
Publisher
American Institute of Physics
Abstract
We discuss generalizations of the well known concept of canonical transformations fo symplectic structures to the case of hyperkahler structures. Different characterizations, which are equivalent in the symplectic case, give rise to non-equivalent notions in the hyperkahler ramework; we will thus distinguish between hyperkahler and canonical transformations. We also discuss the properties of hyperhamiltonian dynamics in this respect.
Description
©2014 AIP Publishing LLC We thank P. Morando for useful discussions on this work. M.A.R. was supported by the Spanish Ministry of Science and Innovation under Project No. FIS2011-22566. G.G. is supported by the Italian MIUR-PRIN program under Project No. 2010-JJ4KPA. This article was started and developed in the course of visits by G.G. in Universidad Complutense and by M.A.R. in Università di Milano; we thank these Institutions for their support.
Collections