Publication:
On a class of nonlinear degenerate parabolic equations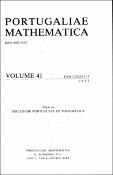 Authors
Advisors (or tutors)
Editors
Publisher
Sociedade Portuguesa de Matematica
Abstract
The paper is a nice brief review of fundamental results about the initial value problem for one-dimensional nonlinear degenerate parabolic equations of "porous media'' type: ut=[φ(ux)]x, x∈R, t>0, with φ continuous, nondecreasing, φ(0)=0, |φ(s)|→∞ as |s|→∞. The results concern existence, uniqueness and regularity of solutions with initial data u0 in L2 (u0 not necessarily of one sign). When u0≥0 has compact support, regularity and growth results of the interfaces demarcating the compact support of the solution are also described.
Citation
N. D. Alikakos, L. C. Evans: «Continuity for the gradient of the solutions of certain degenerate parabolic equations», to appear. N. D. Alikakos, R. Rostamian: «gradient estimates for degenerate diffusion equations», I and II, to appear. D. G. Aronson: «Regularity properties of flows through porous media», SIAM J. Appl. Math. 17 (1969), 461-467. G. Astarita, G. Marrucci: Principles of non-newtonian fluid mechanics, MacGraw.Hill, (1974). H. Attouch, A. Damlamian: «Application des méthodes de convexité et monotonie a l'étude de certaines équations quasilinéaires», Proceedings of the Royal Society of Edinburgh 79 A (1977), 107-129. G. I. Barenblatt: «On self-similar motions of compressible fluids in porous media», Prikl. Mat. Mek 16, 6 (1952), 679-698 (in Russian). H. Brezis: Operateurs maximaux monotones et semigroupes de contractions dans les espaces de Hilbert. North-Holland (1973). L. C. Evans: «Application of nonlinear semigroup theory to certain partial differential equations», in Nonlinear evolution equations, M. G. Crandall ed. Academic Press (1978). M. A. Herrero, J. L. Vázquez: «Asymptotic behaviour of solutions of a strongly nonlinear parabolic problem», Annales Fac. Sci. Toulouse III (1981), 113-127. M. A. Herrero, J. L. Vázquez: «On the propagation properties of a nonlinear degenerate parabolic equation», Comm. in PDE, 7 (12) (1982) 1381-1402. M. A. Herrero, J. L. Vázquez: «Regularity results for a nonlinear degenerate parabolic equation», preprint. A. S. Kalashnikov: «On a nonlinear equation appearing in the theory of non-stationary filtration», Trud. Sem. I. G. Petrovski (1978) (in Russian). S. N. Kruzhkov: «Results on the character of the regularity of solutions of parabolic equations and some of their applications» Mal. Zam. 6 (1969), 97-108 (in Russian). L. K. Martinson, K. B. Pavlov: «Unsteady shear flows of a conducting fluid with a rheological power law», Magnitaya Gidrodinamika 2 (1971), 50-58. U. Mosco: «Convergence of convex sets and of solutions of variational inequalities», Adv. in Math. 3 (1969),510-585. O. A. Oleinik, A S. Kalashnikov, C. Yu Lin: «The Cauchy problem and boundary problems for equations of the type of unsteady filtration, Izvestya Akad. Nauk. URSS Ser. Mat. 22 (1958), 667-704. L. A. Peletier: «The porous media equation», in Applications of Nonlinear Analysis in the Physical Sciences, H. Amman et al. ed. Pitman (1981),229-241. J. L. Vázquez: «Large time behaviour of the solutions of the one-dimensional porous media equation», Proceedings of the Symposium on Free Boundary Problems, Montecatini, Italia (1981) to appear in Pitman Publ.
Collections