Publication:
Alteraciones anatomo-radiológicas en la relación presacra post-neoadyuvancia en cáncer de recto: valor predictivo pronóstico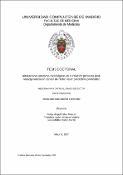 Files
Authors
Editors
Publisher
Universidad Complutense de Madrid
Abstract
El cáncer colorrectal representa casi un 10% del total de cánceres a nivel mundial. El diagnóstico de certeza se realiza mediante la confirmación histológica con la toma de biopsia. El estadio patológico definitivo (pTNM) se determina tras la cirugía y el examen anatomopatológico del espécimen quirúrgico, es de gran utilidad para hacer una estimación de las probabilidades de control de la enfermedad a largo plazo y consecuentemente, determinar la necesidad o no de tratamiento adyuvante. El conocimiento de la anatomía embriológica del intestino anterior, medio y posterior es necesaria para poder realizar un análisis de las relaciones anatómicas maduras desde un punto de vista estructural y funcional. El techo endodérmico del saco vitelino da origen al tubo intestinal primitivo. El mesorrecto deriva del mesenterio dorsal, es el mesenterio visceral que rodea el recto y está cubierto por una capa de fascia visceral proporcionando un plano de seguridad. Este tejido mesentérico tiene gran vascularización linfática que rodea al recto y que, como él, deriva del intestino posterior. El término cáncer de recto localmente avanzado es comúnmente utilizado para categorizar al subgrupo clínico de tumores de recto que penetran a través de la pared rectal y/o que presenta afectación de los ganglios linfáticos pélvicos. El tratamiento multidisciplinar ha reducido las recidivas locales de tumores de recto localmente avanzados de un 40 a menos de un 10%, con un aumento de la supervivencia global de 50% a 75% en los últimos 40 años...
Colorectal cancer nearly represents the 10% of all cancers worldwide. The diagnosis is made by histologic confirmation with biopsy. The final pathologic stage (pTNM) is determined after surgery and pathologic examination of the surgical specimen, it is useful to estimate the odds of disease control in the long term and consequently determine whether or not adjuvant treatment . Knowledge of embryologic anatomy of the anterior, middle and posterior intestine is necessary to perform an analysis of the mature anatomic relationships from a structural and functional point of view. The roof of the yolk sac endoderm gives rise to the primitive gut tube. Mesorectum derived from dorsal mesentery . The visceral mesentery around the rectum is covered by a layer of visceral fascia providing a safety plane. This tissue has great mesenteric lymph vasculature surrounding the rectum and which, like it, derives from the hindgut. The term locally advanced rectal cancer is commonly used to categorize the clinical subgroup of rectal tumors that penetrate through the rectal wall and / or that affect the pelvic lymph nodes. The multidisciplinary treatment has reduced local recurrence of locally advanced rectal tumors from 40 to less than 10%, with an increase in overall survival from 50% to 75% over the last 40 years. The neoadjuvant chemotherapy and radiotherapy has shown a significant increase in the rate of complete pathological response and the decrease in local recurrence. . Surgery remains the mainstay of the treatment, and the introduction of the total mesorectal excision (TME), standard procedure at present, has revolutionized oncologic outcomes in resectable tumors, getting local recurrence rates significantly lower...
Description
Tesis inédita de la Universidad Complutense de Madrid, Facultad de Medicina, Departamento de Medicina, leída el 26-01-2016
Collections