Publication:
Estudio de la amilina humana (hIAPP) en la fisiopatología de la diabetes mellitus tipo 2 y su relación con las enfermedades neurodegenerativas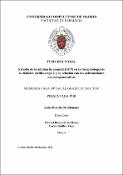 Files
Authors
Advisors (or tutors)
Editors
Publisher
Universidad Complutense de Madrid
Abstract
La diabetes mellitus tipo 2 es una enfermedad metabólica que afecta sobre todo apersonas de avanzada edad en todo el mundo (International Diabetes Federation,2021). Esta enfermedad está caracterizada por la aparición de resistencia a la acción de la insulina, que conlleva un fallo en su secreción y por consecuencia, un estado crónico de hiperglucemia. Su desarrollo depende de la eficacia del mecanismo compensatorio llevado a cabo por las células β pancreáticas, en el que se incrementa la masa de estas células mediante hiperplasia e hipertrofia para hacer frente a la demanda de insulina (Stumvoll, Goldstein and Van Haeften, 2005). La amilina humana (hIAPP), una hormona sintetizada y secretada junto con la insulina en respuesta a glucosa, es una proteína en la que la ausencia en su estructura peptídica de aminoácidos como prolina le permite formar agregados de tipo β amiloide cuando existe un mal plegamiento en su maduración, siendo uno de los factores determinantes en el fracaso de las células β pancreáticas y el desarrollo de diabetes mellitus tipo 2 (Westermark, Andersson and Westermark, 2011)...
Type 2 diabetes mellitus is a worldwide metabolic disease which is more prevalent in aged population (International Diabetes Federation, 2021). This disease is characterized by the onset of an insulin resistance that triggers a defect in insulin secretion and consequently, a chronic hyperglycemia status. The development of type 2 diabetes depends on the efficacy of the compensatory mechanism displayed by pancreatic β cells; this mechanism consists of an increase of β cell mass by hyperplasia and hypertrophy in response to an augmented demand of insulin (Stumvoll, Goldsteinand Van Haeften, 2005). Human amylin (hIAPP) is a hormone synthesized and secreted together with insulin in response to glucose, which aminoacidic sequence lacks residues capable of impede β-amyloid structures formation when this protein is misfolded. Due to this feature, human amylin is one of the causative factors of pancreatic β cell failure and type 2 diabetes mellitus onset (Westermark, Anderssonand Westermark, 2011)...
Description
Tesis inédita de la Universidad Complutense de Madrid, Facultad de Farmacia, leída el 29-03-2022
Collections