Publication:
La economía política de la esclavitud: los argumentos económicos del debate abolicionista español del siglo XIX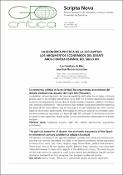 Advisors (or tutors)
Editors
Abstract
La abolición de la esclavitud en las colonias españolas del Caribe fue un largo y tortuoso proceso que no se completó plenamente hasta 1886. En el debate abolicionista español se dieron cita argumentos de muy diversa índole: morales, religiosos, jurídicos, humanitarios, políticos y económicos. Estos últimos no han recibido hasta ahora atención específica por parte de los historiadores, que sin embargo sí se han interesado por otros muchos aspectos del proceso abolicionista. Este trabajo se centra en analizar los principales argumentos económicos esgrimidos a lo largo del siglo XIX tanto por los esclavistas como por los abolicionistas españoles, viendo cuáles fueron sus referentes intelectuales en el ámbito europeo.
The abolition of slavery in the Spanish Caribbean colonies was a long and tortuous process that was not fully completed until 1886. In the Spanish abolitionist debate arguments of various kinds were used: moral, religious, legal, humanitarian, political and economic. These latter have so far not received specific attention from historians, who have been interested however in many other aspects of the abolitionist process. This work focuses on the main economic arguments used by pro-slavery and abolitionist Spanish authors during the nineteenth century, analyzing their European intellectual sources.
Collections