Publication:
Reputación de las sociedades: tutela frente a la difusión de información lesiva a través de Internet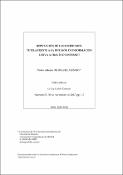 Authors
Advisors (or tutors)
Editors
Abstract
La reciente jurisprudencia del Tribunal de Justicia resulta determinante para valorar ante qué tribunales cabe ejercitar acciones frente a vulneraciones de los derechos de la personalidad que tienen lugar por medio de Internet. Especial atención merece el tratamiento en caso de menoscabo de la reputación de las personas jurídicas, la circunstancia de que el alcance de la competencia varía en función del criterio en que se base, así como que dicho alcance resulta determinante de las medidas que el órgano judicial puede adoptar.
The recent case law of the Court of Justice sheds light on the interpretation of the jurisdiction grounds determining the courts which are competent to adjudicate claims against the violation of personality rights caused by information published online. Particular attention deserves the treatment of violations concerning harm to personality rights of legal persons. Moreover, the reach of the jurisdiction granted to the court varies depending the ground on which it is based and therefore restricts the measures that may be adopted against online activities in certain situations.
Collections