Publication:
Transferencia lateral de cargas de presas arco en cerradas con zona central (o cauce) deformable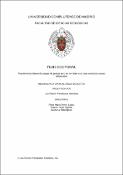 Files
Advisors (or tutors)
Editors
Publisher
Universidad Complutense de Madrid
Abstract
Es conocido que una presa debe poder seguir las deformaciones del cimiento, sin pérdida de las características estructurales y funcionales. Así, la tipología más adecuada de una presa suele ser aquélla que cumple, entre otras, la anterior condición. En cerradas con características geotécnicas no uniformes se plantea la disyuntiva de diseñar toda la presa en función de la parte de cimiento más deformable, o pensar en un tipo de presa para ésta, y otro para el cimiento más rígido. En este caso, es necesario resolver el problema del contacto entre ambas tipologías, difícil sin duda ante los diferentes asientos esperables. A veces se ha planteado mejorar el cimiento, transformándolo en el adecuado para la tipología de presa que, por algún otro motivo, se haya previsto. Esta actuación no resulta económica cuando hay que acometerla a gran escala...
It is known that a dam must be able to adapt to the foundation strains, without losing the structural and functional characteristics. So, the most appropriate typology of a damis usually that which fulfills, among others, the former condition. For dam sites without uniform geotechnical characteristics, the choice is to design the entire dam according to the most deformable part of the foundation, or to plan one type of dam for this part, and another for the more rigid foundation. In this case, it is necessary to solve the problem of the contact between both typologies, what is difficult because of the different expected settlements.Sometimes it has been considered to improve the foundation, transforming it into the one suitable for the type of dam that, for some other reason, had been foreseen. Such action is not economical when it has to be undertaken on a large scale...
Description
Tesis inédita de la Universidad Complutense de Madrid, Facultad de Ciencias Geológicas, Departamento de Geodinámica, Estratigrafía y Paleontología, leída el 25/03/2021
Collections