Publication:
Integración de patrones de seguridad y patrones de diseño J2EE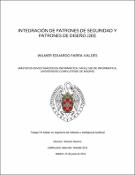 Authors
Advisors (or tutors)
Editors
Abstract
El presente trabajo analiza dos de los catálogos de patrones de diseño de software más populares que provienen de la experiencia de Sun Microsystems (actualmente Oracle Corporation), define las relaciones existentes entre ellos para proporcionar un uso coherente de ambos catálogos y presenta el modelado de dos casos prácticos de aplicaciones que integran patrones de los dos catálogos analizados. Los patrones pertenecientes al Catálogo Core Security Patterns (CSP) (Steel et al. 2005)se han analizado de forma individual y se han interpretado en el contexto Core J2EE Pattern Catalogue (CJP) (Alur et al. 2003). En este estudio se ha considerado: (i) la interpretación de los patrones de CSP en términos de arquitectura multicapa (es decir, el catálogo de patrones CJP); (ii) la información adicional incluida en el catálogo del CSP para facilitar su comprensión; (iii) los requisitos previos CJP para entender los patrones de CSP; y (iv) los requisitos previos CSP para la comprensión del patrón CSP analizado. Los resultados de este trabajo tienen una doble aplicabilidad. Desde un punto de vista industrial, este trabajo facilita el uso de patrones de seguridad en el contexto de una arquitectura multicapa. Desde un punto de vista educativo, este trabajo establece una relación de precedencia entre los patrones multicapa y los de seguridad, y define además un subconjunto de patrones multicapa como el mínimo necesario para comprender los patrones de seguridad. De esta forma se facilita la docencia de los patrones CSP.
This paper briefly analyses two of the most popular software design pattern catalogues based on experience at Sun Microsystems (currently Oracle Corporation), draws relations between them to provide a cohesive use of both catalogues and implements two case studies of applications that integrate patterns of the two catalogues analysed. Patterns belonging to the Core Security Patterns Catalogue (CSP) have been individually analysed and interpreted in the context of the Core J2EE Pattern Catalogue (CJP), highlighting: (i) the interpretation of CSP patterns in terms of multitier architecture (i.e. CJP patterns); (ii) the additional information included in the CSP catalogue; (iii) CJP prerequisites for understanding CSP patterns; and (iv) CSP prerequisites for understanding the CSP analysed pattern. The results apply to two areas. From an industrial point of view, the use of security patterns is made easier because their integration in a multitier architecture is facilitated by the work presented in this paper. From an educational point of view, a relationship of precedence between multitier and security patterns is established, and a subset of multitier patterns is proposed as the minimum needed to understand security patterns.
Description
Máster en Investigación en Informática, Facultad de Informática, Departamento de Ingeniería del Software e Inteligencia Artificial, curso 2013-2014