Publication:
Intermediate Rotator Phase in Lead(II) Alkanoates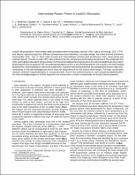 Authors
Martínez Casado, Francisco J.
Sánchez Arenas, Ángel Antonio
García Barriocanal, Javier
Advisors (or tutors)
Editors
Abstract
Lead(II) alkanoates, from hexanoate to dodecanoate, have been analyzed by means of XRD, optical microscopy, DSC, FTIR, and electric spectroscopy. Four different phases have been identified, corresponding to the three thermal transitions measured by DSC: two of them solid (crystal and "intermediate" phases), and another two fluid (neat phase and isotropic liquid). Powder crystal XRD data indicate that the samples present a bilayered structure. The analysis of the (00l) spacing dependence with temperature in the three ordered phases strongly points to the intermediate phase to be a rotator phase. Optical microscopy and FTIR versus temperature also confirm a structural change from the crystal to the intermediate phase and its solid-state nature. Electrical conductivity maps the thermal transitions of the samples and shows a high ionic conductivity in the intermediate phase, which does not depend much on the carbon chain length. The high conductivity values (3 orders of magnitude higher in comparison with that of the ordered crystal at room temperature) obtained for the intermediate phase gave a further support to the existence of a rotator mesophase in the lead(II) alkanoate series.
Collections