Publication:
An example concerning a question of Zariski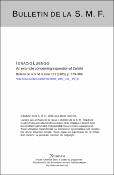 Authors
Advisors (or tutors)
Editors
Publisher
Société Mathématique de France
Abstract
In this paper we present an example of a family of surface singularities which is Zariski-equisingular for a transversal projection, but it is not Zariski-equisingular for a generic projection.
Citation
Briançon(J.) et Henry (J.-P. G.). — Equisingularité générique des familles des surfaces à singularités isolées, Bull. Soc. Math. Fr., vol. 108, 1980, p. 260-284. Briançon(J.) et Speder (J.-P.). — Familles équisingulières de surfaces à singularité isolée, C.R. Acad. Sc., t. 280, série A, 1975, p. 1013-1016. Briançon(J.) et Speder (J.-P.). — Familles équisingulières d'hypersurfaces à singularité isolée, Thèse 2e partie, Nice, 1976. Teissier (B.). — Proof that Zariski dimensional type can be computed with linear projections, when it is 2. Notes of Lectures at the Harvard Singularities Seminar. 1981. Zariski (O.). — Some open question in the theory of singularities, Bull. A.M.S., vol. 77, n° 4, 1971, p. 481-491. Zariski (O.). — On the elusive concept of equisingularity, Symposium in Honor to J. Silvester, Johns Hopkins Univ. Press, Baltimore, 1978. Zariski(O.). — Foundations of a general theory of equisingularity on r-dimensional algebroid and algebraic varieties embedding dimension r + 1, Amer. J. Math., 101, 2, 1979, p. 453-514.
Collections