Publication:
Migración contemporánea mexicana: redes sociales transnacionales y políticas migratorias : la experiencia migratoria de la comunidad de Tunkás, Yucatán en el sur de California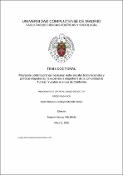 Files
Advisors (or tutors)
Editors
Publisher
Universidad Complutense de Madrid
Abstract
This research explores the impacts of the most recent U.S. economic crisis on the Mexican immigrant labour market, specifically from the town of Tunkás, Yucatan. Based on Bourdieu.'s theory of Capital production, and the transnational theoretical perspective, this study aims to build a conceptual frame for the migrant's social capital in modern societies. A key element of this analysis is that a pioneer migrant-woman has initiated the tunkaseño social network in Los Angeles and Orange County, California; and has set the route to migrate to North. Finally this analysis presents how U.S. worksite enforcement policy affects the labour market that tunkaseños encounter in Southern California in the midst of a financial crisis. Tunkás, our Mayan community, native from the Southern Mexican state of Yucatan has experienced a constant migration process to California ever since the Bracero Program started. Mayan migrants have acquired new responsibilities, and a hybrid identity as transnational citizens. Yucatecan migration is defined as a contemporary Mexican migration, mostly undocumented, exacerbated during the nineties, in the midst of the Mexican financial crisis from 1994 to 1997. The present work is part of a broader research that discusses the transformation of Mexican migration patterns of different states of Mexico. This project is based on fieldwork in the communities of origin and destination. As well, on the survey results and life stories obtained during 2005-2006, and 2008-2009 by MMFRP1, where I took part in both editions as a researcher...
Description
Tesis inédita de la Universidad Complutense de Madrid, Facultad de Ciencias Políticas y Sociología, leída el 18-01-2016
Collections