Publication:
¿Brexit? Escenarios internacionales y Gibraltar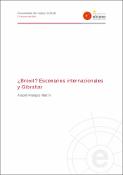 Authors
Advisors (or tutors)
Editors
Publisher
Real Instituto Elcano de Estudios Internacionales y Estratégicos
Abstract
La hipótesis de este trabajo es analizar los escenarios internacionales post-Brexit. La retirada del Reino Unido de la Unión Europea tendrá efectos diversos en las relaciones exteriores de la Unión; el Reino Unido no recuperará su pasado, no volverá a 1972, no hay restitutio in integrum. Tendrá que reconstruir su propia red de acuerdos con terceros. Habrá un impacto relativo sobre la Política Exterior y de Seguridad Común (PESC) y en seguridad y defensa, mayor en la relación con EEUU. Habrá un efecto negativo sobre las relaciones intraeuropeas (Escocia, Irlanda del Norte y la república de Irlanda) y Gibraltar.
The hypothesis of this paper is to analyze the international scenarios post-Brexit. The withdrawal of the United Kingdom of the European Union will have different effects on the external relations of the Union; the UK will not recover its past, it will not return to 1972, no restitutio in integrum. UK need to rebuild their own network of agreements with third parties. There will be a relative impact on the Common Foreign and Security Policy (CFSP) and in security and defense, more in the relationship with the US. There will be a negative effect on intra-European relations (Scotland, Northern Ireland and the Republic of Ireland) and Gibraltar.