Publication:
Cambios en los ritmos Alfa y Beta después de un tratamiento de fisioterapia neurológica con y sin feedback visual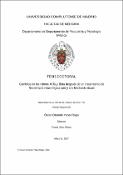 Files
Authors
Advisors (or tutors)
Editors
Publisher
Universidad Complutense de Madrid
Abstract
Un ictus ocurre cuando se produce la disminución brusca del aporte sanguíneo, su cuadro clínico está determinado por la localización y el tamaño de la lesión, dependiendo del territorio arterial afectado, los síntomas serán distintos. Las lesiones del hemisferio izquierdo alteran la ejecución de secuencias motoras complejas de los miembros superiores de forma bilateral. Las lesiones del hemisferio derecho se asocian con impersistencia motora (déficit en la capacidad de mantener una postura), déficit de la imagen corporal, lo cual genera la negligencia del espacio extracorpórea opuesto al lado de la lesión, al igual que alteraciones visuo-motoras. La identificación de las diferencias funcionales de la lesión dependiendo del hemisferio afectado en los pacientes con Ictus permitiría a los terapeutas desarrollar una mejor valoración y elaborar de forma más específica los procedimientos y enfoques terapéuticos para ayudar a maximizar el potencial de rehabilitación en cada uno de los grupos de pacientes...
A stroke occurs when a sharp blood supply decrease occurs, so the clinical picture is determined by the injury location and size. Then, depending on the arterial area affected, symptoms will be different. Left hemisphere injuries will alter bilaterally the execution of complex motor sequences of the upper limbs. First, right hemisphere lesions are related with motor impersistence (deficit of the capacity to maintain a posture), corporal image deficit, which generates negligence of the extracorporeal space in the injury's opposite side, as well as visual-motor alterations. It is crucial to identify functional differences of the injury depending on the hemisphere affected in patients with stroke, which will allow therapists to develop a better assessment and elaborate more specifically procedures and therapeutic approaches in order to maximize the potential of rehabilitation in each group of patients. Additionally, an important aspect of the nervous system has been studied in the last two decades, it is about the mirror neurons which are a type of neurons defined originally in the monkeys premotor cortex that are ejected both when an individual perform a determined motor act, and when the individual observe others performing same motor act...
Description
Tesis inédita de la Universidad Complutense de Madrid, Facultad de Medicina, Departamento de Psiquiatría y Psicología Médica, leída el 20/01/2016
Collections